Drawing from the Past Engages High School Students in the ICAA Cast Hall
The ICAA Cast Hall initiates new outreach programs to New York City high school students, demonstrating the continuing relevance of 19th century plaster cast collections to the contemporary study of architecture, art, and design.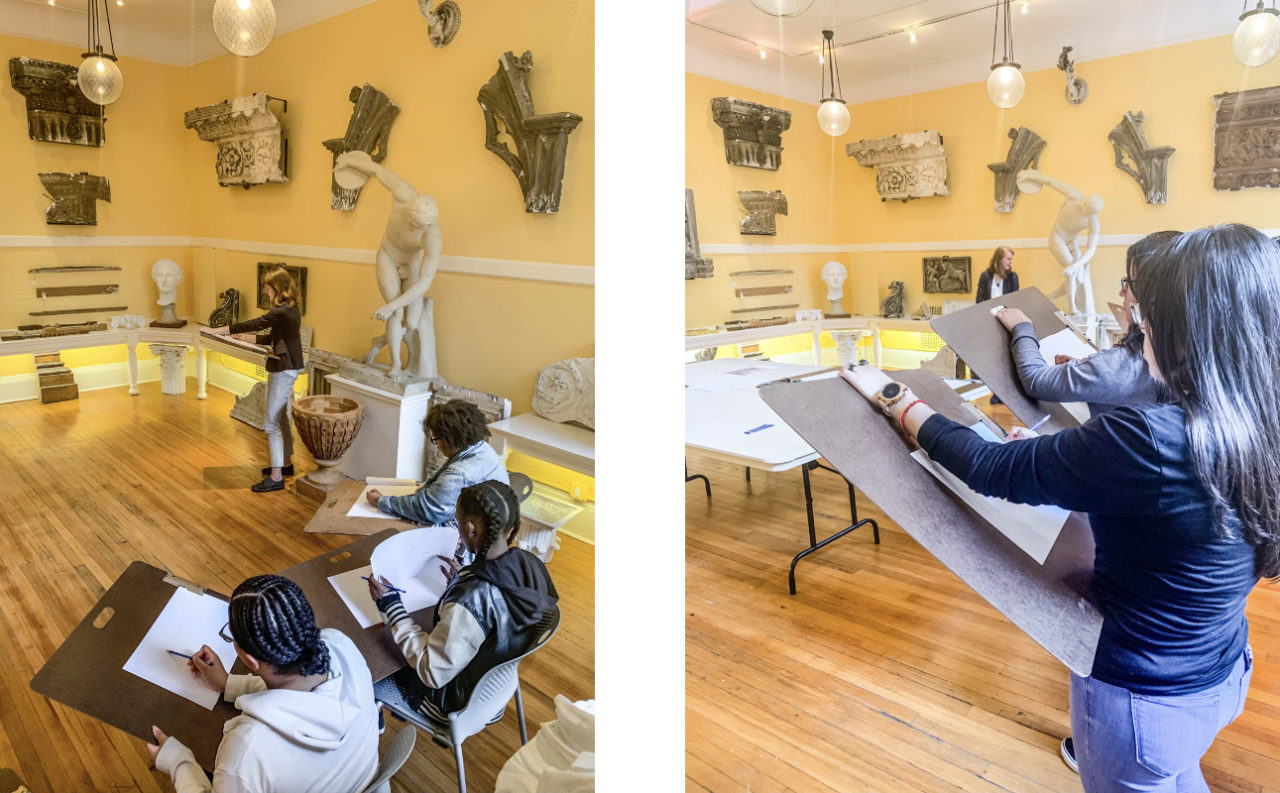 The ICAA is proud to introduce Drawing from the Past, a new 90-minute program based in our Cast Hall during which students will explore our plaster casts and their histories through drawing and inquiry-based discussion. This new program is made available through the generous support of Joe Tuana who also enabled the establishment of the Peter Pennoyer Cast Hall Fellowship. The program is adaptable to a wide range of curricula and current Fellow Hannah Kinney is available to work one-on-one with teachers to plan their visit. For aspiring young architects and designers, the program can also include the perspective of a contemporary practitioner who will speak to how they utilize the principles of classical architecture in their own work today.
On April 15, our first group of students took part in this new program. Eight juniors, in the second year of the architecture program at the High School of Art and Design who have just started an American Institute of Architecture Students (AIAS) club, explored the Cast Hall through drawing exercises. The students appreciated how the act of drawing helped them recognize details and think more deeply about relative scale. After drawing, they sat down for a roundtable discussion with Elaine Rose, architect at G.P. Schafer Architect, about her career and academic trajectory.
Before the end of the school year, public high school students studying art making, art history, and Career and Technical Education tracks related to architecture and the building arts as well as a group of senior girls from The Chapin School who are interning at Peter Pennoyer Architects will also visit the gallery to take part in Drawing from the Past.
ABOUT THE CAST HALL
In 2016 the ICAA opened a Cast Hall, a space displaying historic plaster casts from The Metropolitan Museum of Art in which students, practitioners, and the general public could experience elements of classical architecture and sculpture in three dimensions. Though an integral part of arts education since the Renaissance, plaster casts' heyday came in the late 19th century when museums across Europe and America actively purchased, produced, and displayed plaster casts. In the 1880s, patrons of the Metropolitan Museum contributed hundreds of thousands of dollars to establish a cast collection that would illustrate the development Western architecture and art.
It might be striking to 21st century audiences that 19th century patrons, museum directors, and curators invested so much money into what we consider today to be "copies"; but at the time they believed that plaster casts played an important role in providing museum goers with the chance to see objects that were accessible only through transatlantic travel. The cast collection was, in their view, a democratizing project that they trusted would serve an essential role in educating a quickly expanding metropolis while also creating a resource for architects, artists, and artisans who were designing the Empire City. While today the internet abounds with images of these very objects, plaster casts continue to provide unique three-dimensional access to architecture and sculpture that remain in Europe, still out of reach for many students in New York City.
The ICAA Cast Hall provides an environment for prolonged engagement and close scrutiny of many significant pieces of classical architecture and art, including five separate elements of the Erechtheion and two panels from Lorenzo Ghiberti's "Gates of Paradise." Alongside these casts are objects from the Dick Reid Teaching Collection that were actively used in Reid's workshop, which demonstrate the continuing influence of the classical tradition in modern architectural and design practice. Reid is a renowned stoneworker, mason, and sculptor who has been involved in the restoration of several significant 18th and 19th century buildings in Britain. For example, within the ICAA collection are plaster casts of elements from the rooms designed by James "Athenian" Stuart between 1756-1766 for Spencer House (London).
Thanks to the generosity of ICAA members, including a substantial gift from Joe Tuana, the ICAA is expanding Cast Hall programming to New York City schools, and especially public schools, in order to provide students with an exploration of the classical tradition that only the ICAA can offer.
For more information about the Cast Hall, this program, or to arrange a visit please email [email protected] .