Summer Studio in Classical Architecture 2018 | Week One
Follow the ICAA's 2018 Summer Studio in Classical Architecture program, from June 18th through July 14th, as students from across the country spend four weeks in New York City and the surrounding region exploring the ideas, methods, and issues related to classical architectural design. You can also read updates from weeks two, three, and four.
Summer Studio in Classical Architecture student Andrés S. Martinez gives an update on the first week of the 2018 program, which included an introduction to the foundations of classicism followed by excursions to Bryant Park in Manhattan and Prospect Park in Brooklyn, where students learned how to measure and sketch in the field.
Daily Student Blogs
June 23rd, by Sara Lafrance
We finished our first week at the ICAA with a visit to New York City's beautiful Municipal Building downtown. Despite the cold wind and mist, we had a great time studying the columns, piers, floor patterns, and ceiling details designed by William Kendall of McKim, Mead, & White Architects.
Thanks to handouts provided by teaching assistant Conor Moran, we were able to compare certain elements of the Municipal Building with other historic structures, such as the Palais Farnèse in Paris and the Arch of Constantine in Rome, and see how even hundreds of years later, these structures are still being used as precedents. We practiced our measured drawing skills on the piers (square columns) under the tunnel and the columns in front of the building. Because of the massive scale of these objects, it was much easier for us to do our measured drawings. Previously, we had only studied small balusters in Bryant Park and in the ICAA's Cast Hall.
After studying the piers and columns, we had a very interesting conversation about the vaulted ceilings, incorporated on the right-side of the building, which created a sort of dramatic portico. We spent about 30-45 minutes on each drawing of the pier, column, and floor patterns and discussed our sketches at the end of the morning. We finished with a discussion of the scale of the Municipal Building (it was the largest city hall structure in the country at the time of its completion in 1914!)
Like all of our field trips with the ICAA, we left feeling a lot more enlightened and aware of the beautiful detailing and classical elements incorporated into these stunning, monumental structures - further proof that classical ornament will never truly go out of style.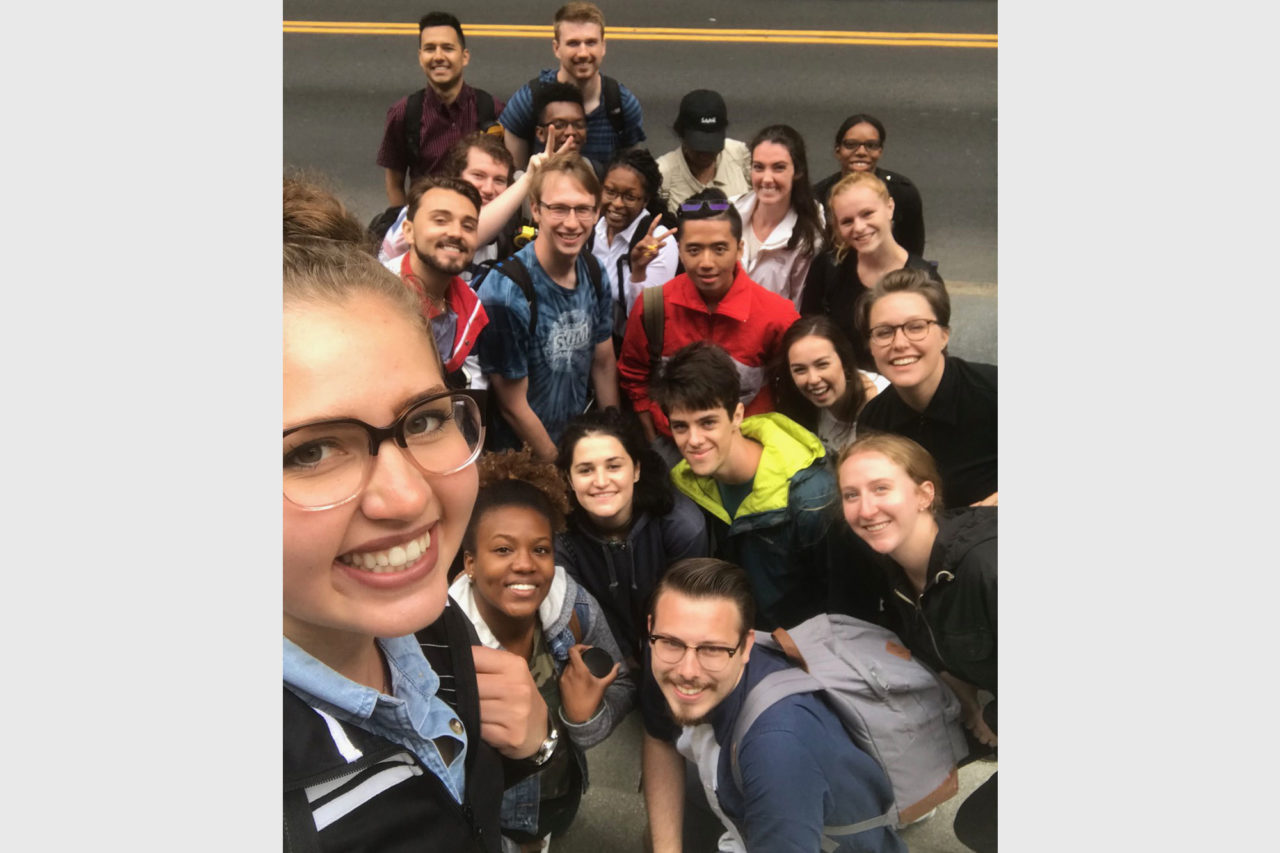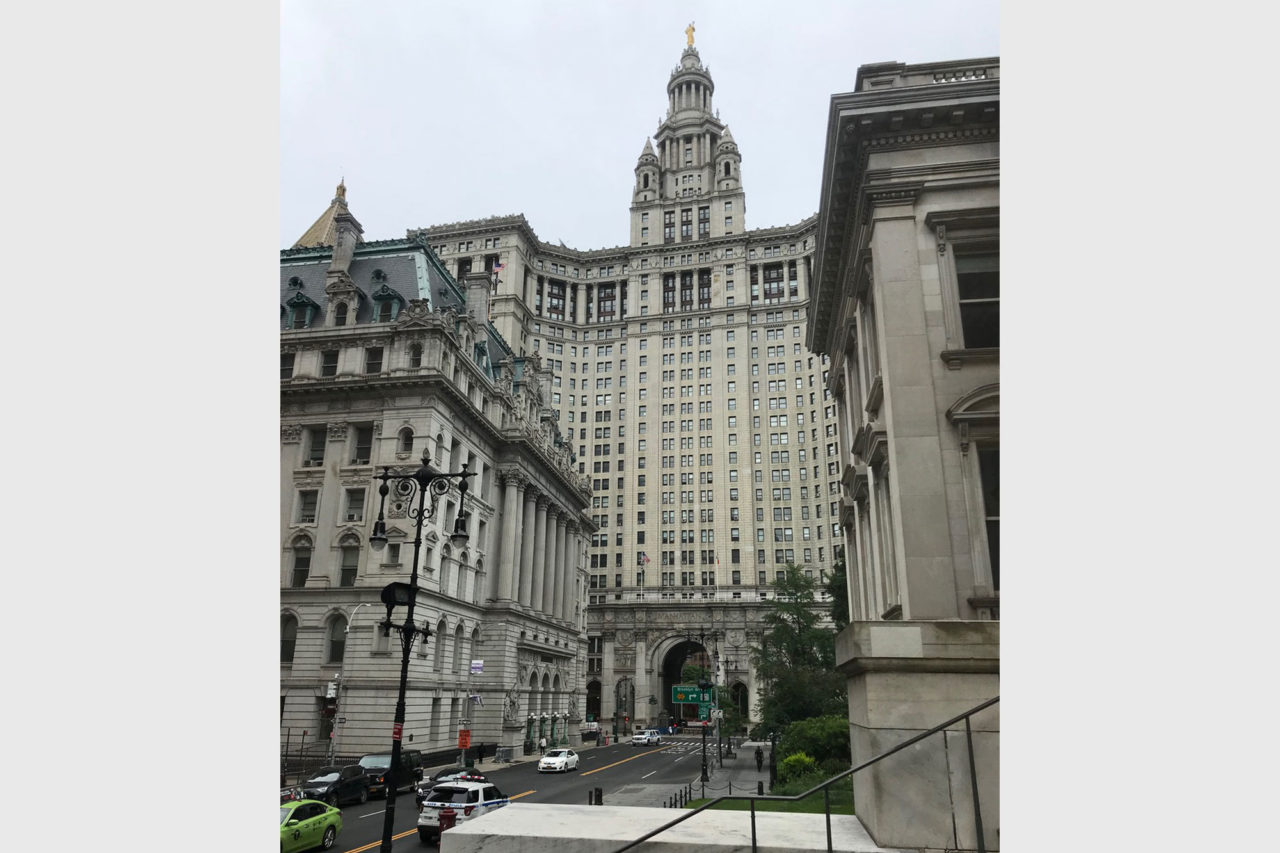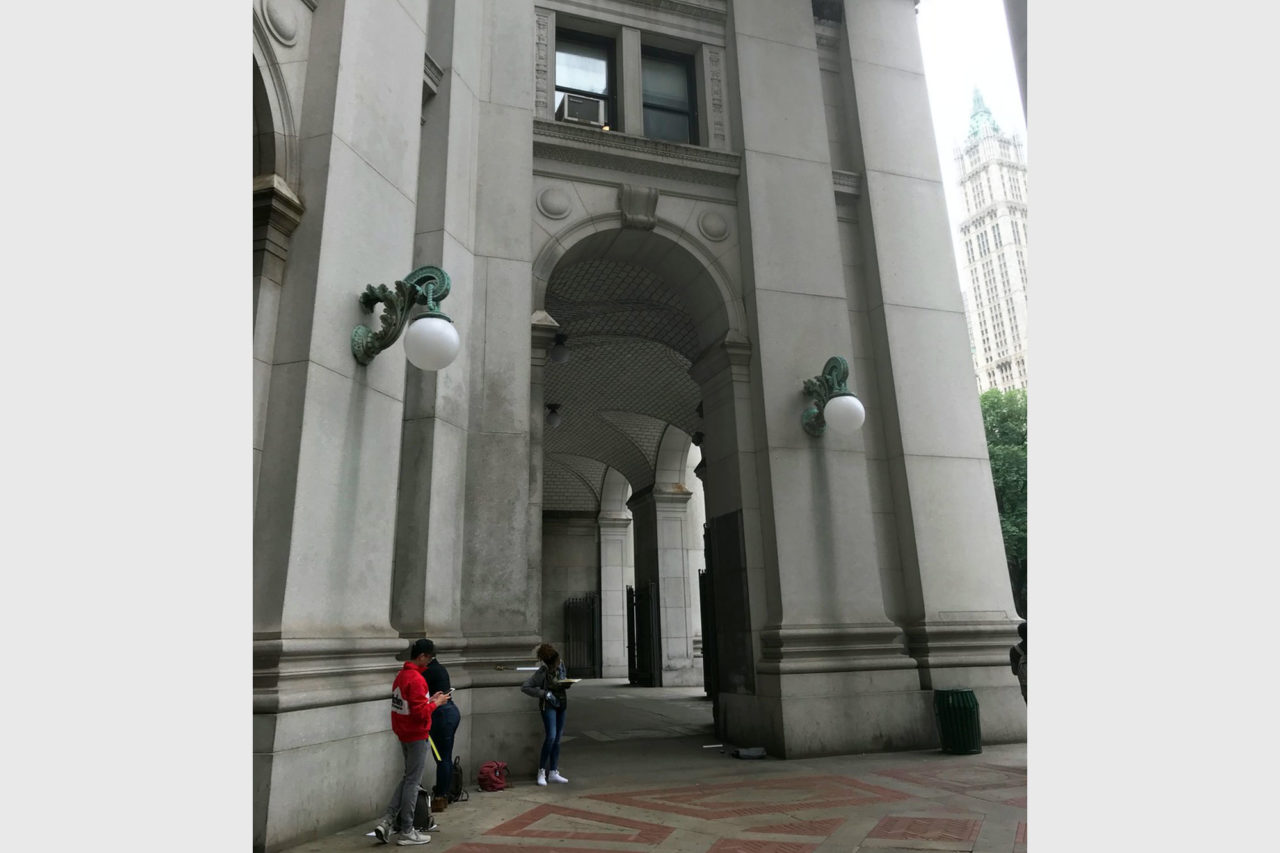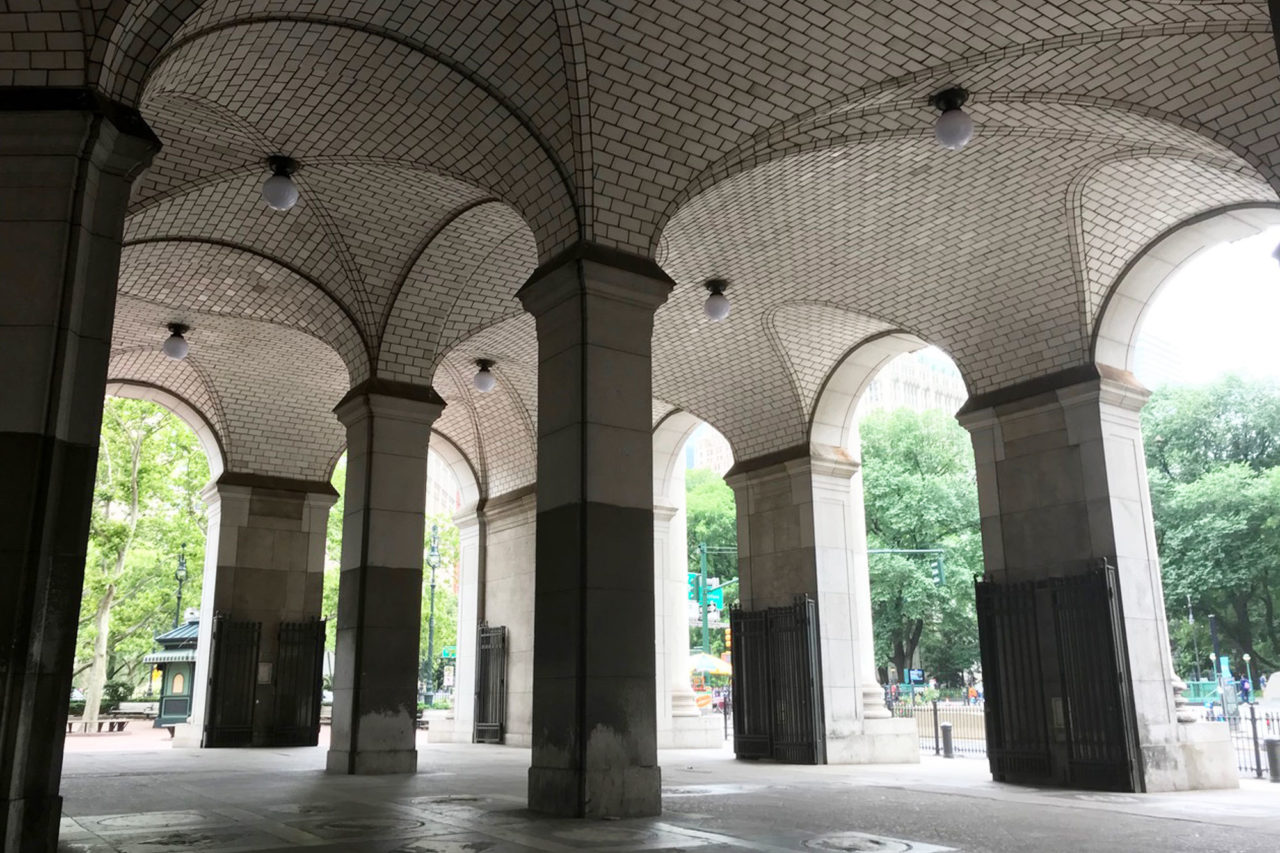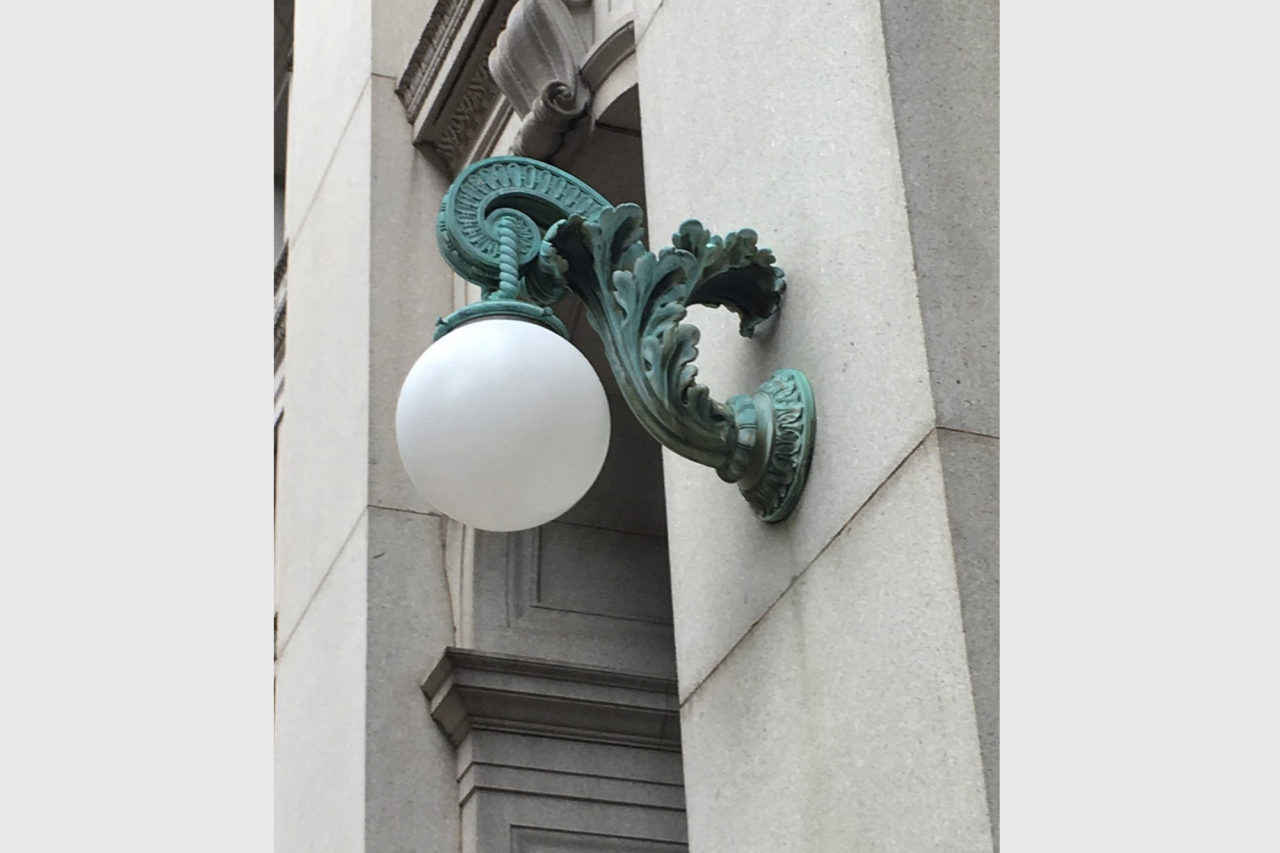 June 22nd, by Brendan "Joe" McLaughlin
This morning we met at Prospect Park in Brooklyn, under the Soldiers' and Sailors' Arch at Grand Army Plaza. We were there to study the site for our design project and look at existing architectural precedents within the park.
We saw a variety of classical pavilions around the park, covering everything from the Tuscan to Corinthian orders. Particularly interesting was the use of structural terracotta vaults, known as Guastavino, or timbrel, vaults, which we saw quite frequently in the buildings we studied. We did a number of measured drawings of buildings throughout the park, including the Lafayette Memorial, the old Lawn Tennis Pavilion, and the Boathouse.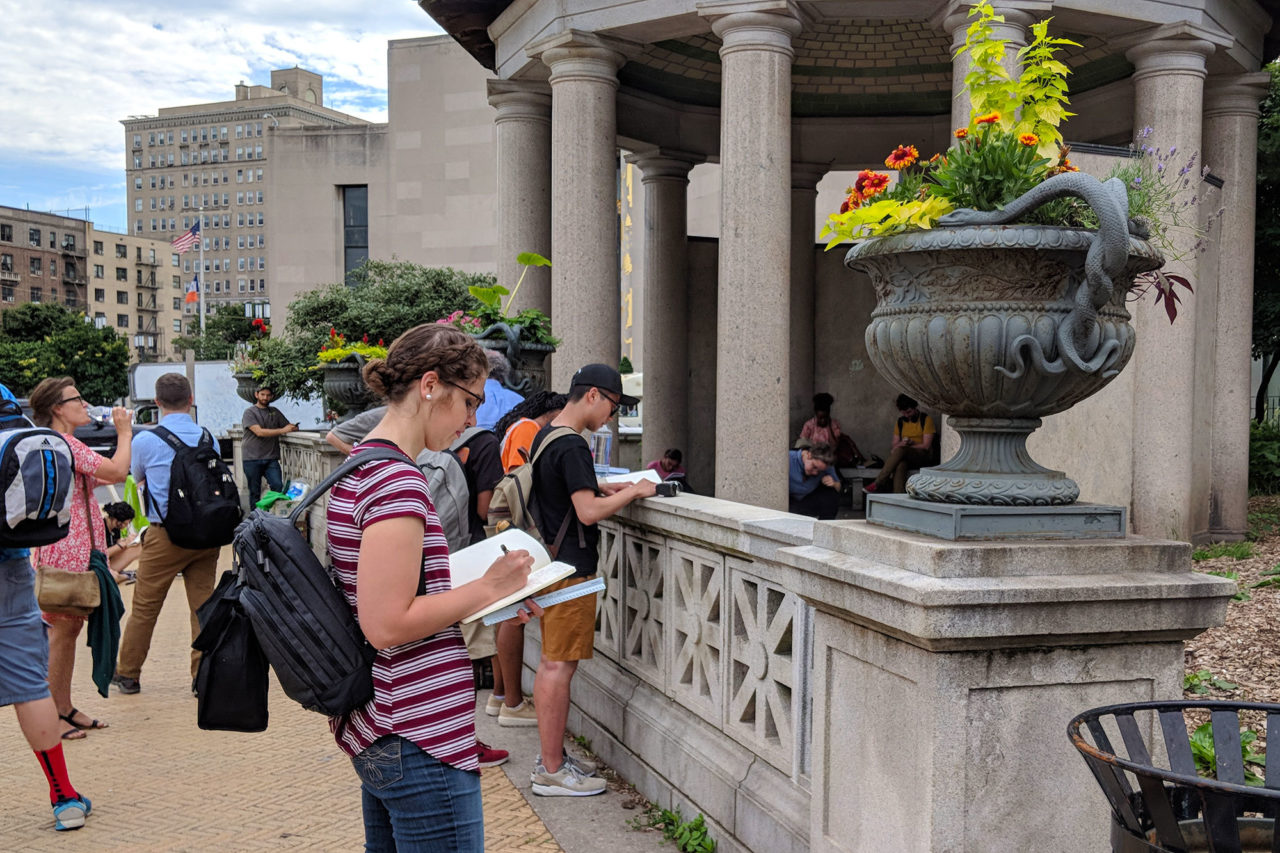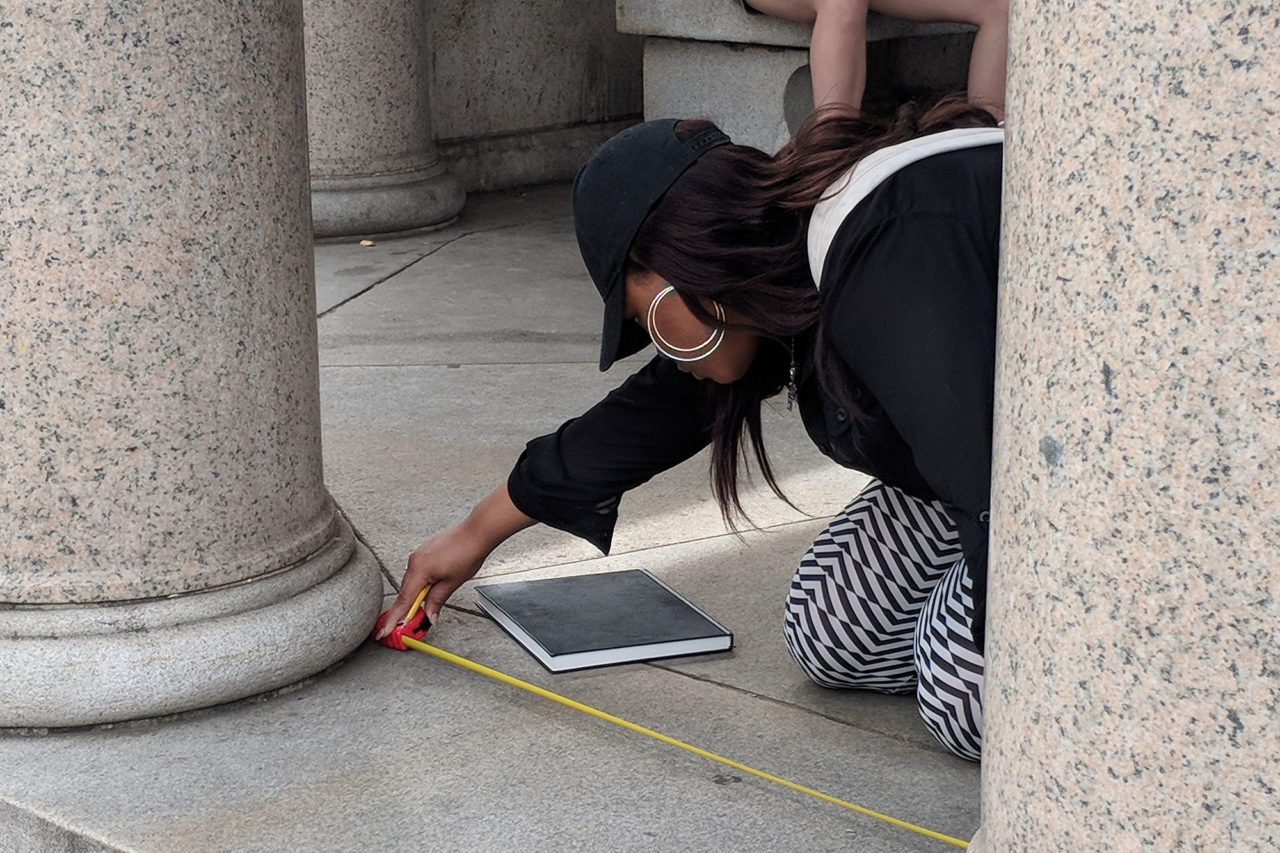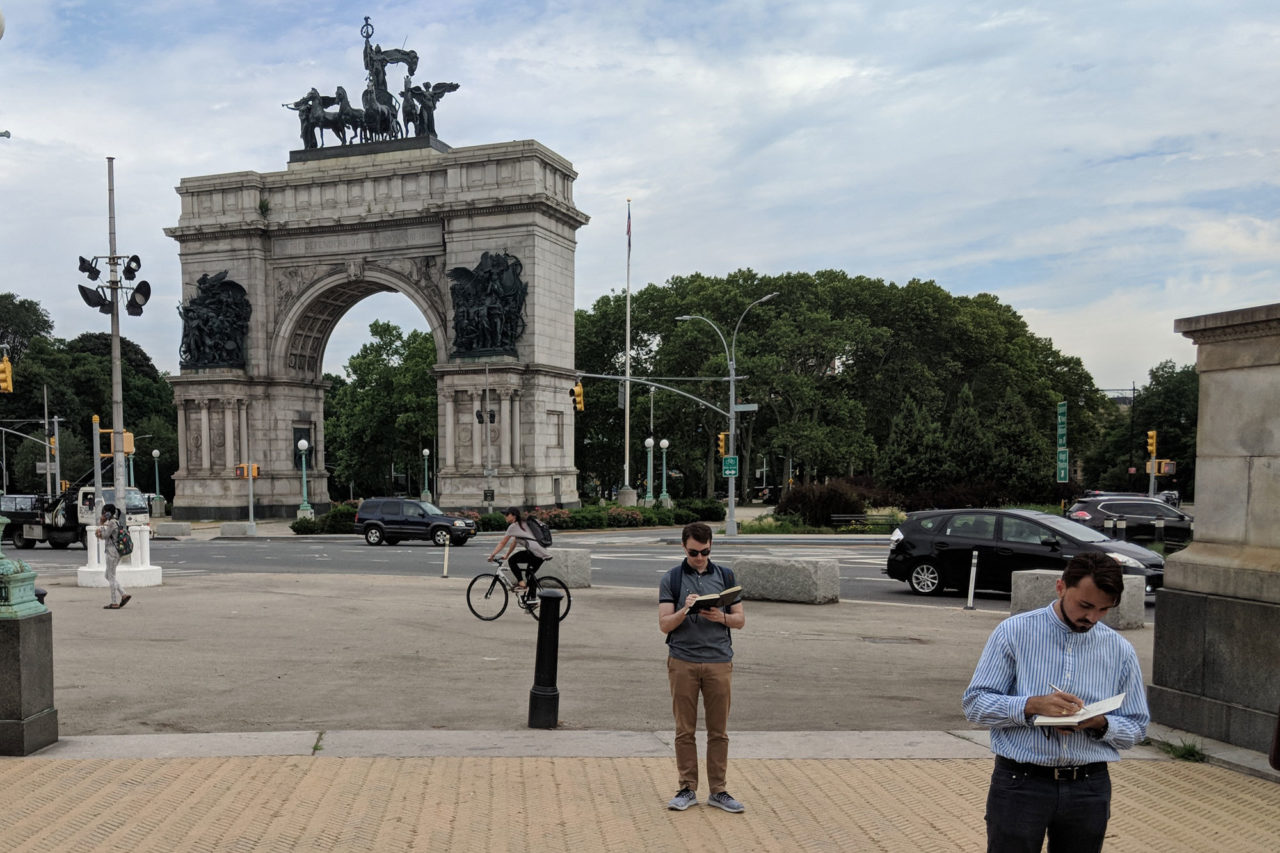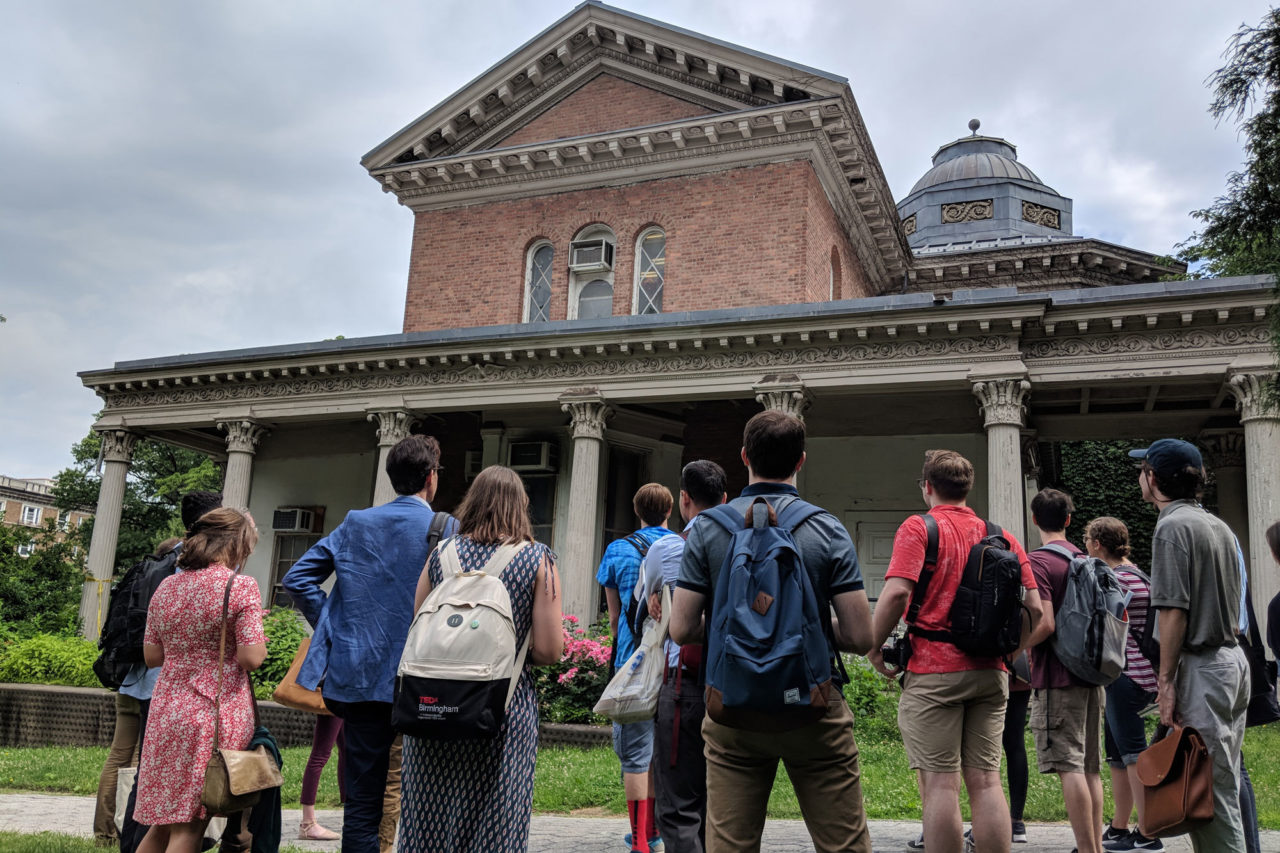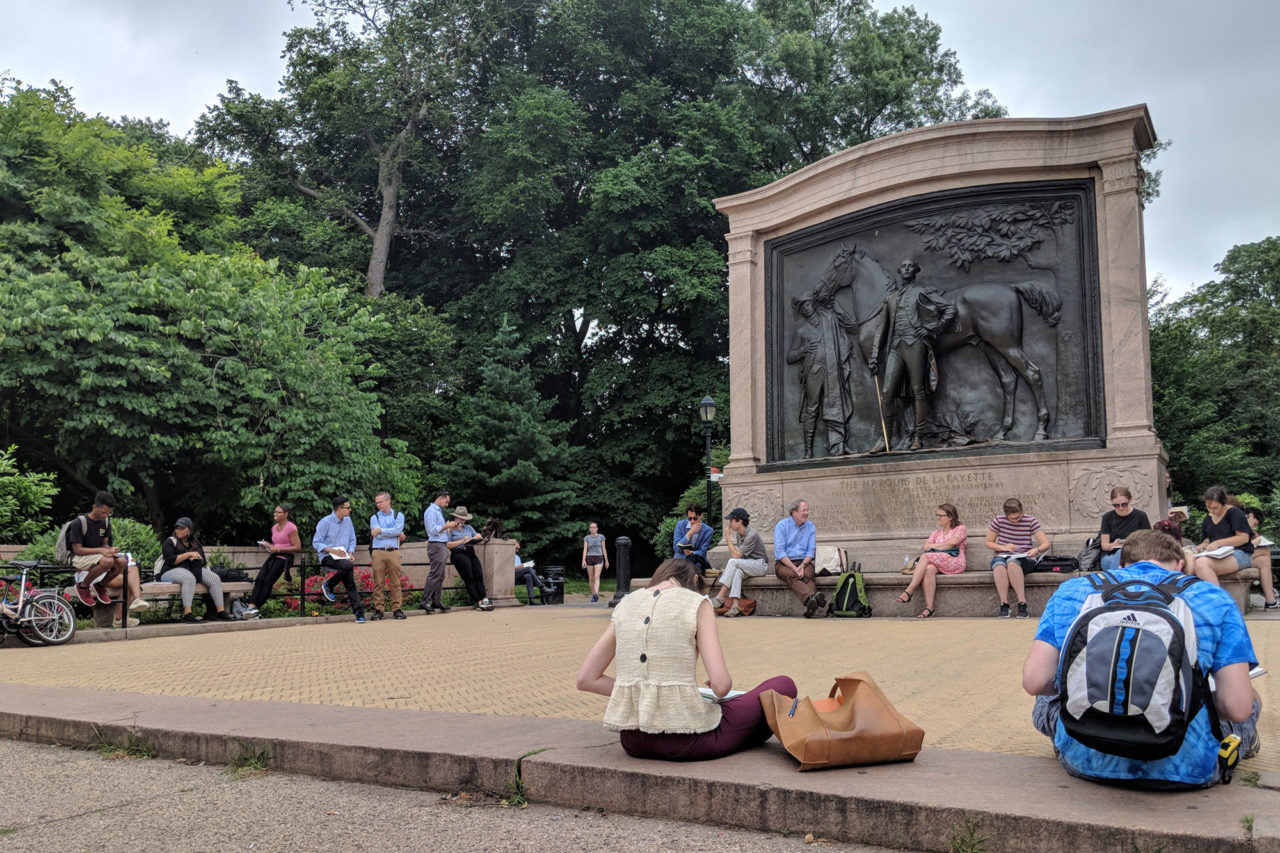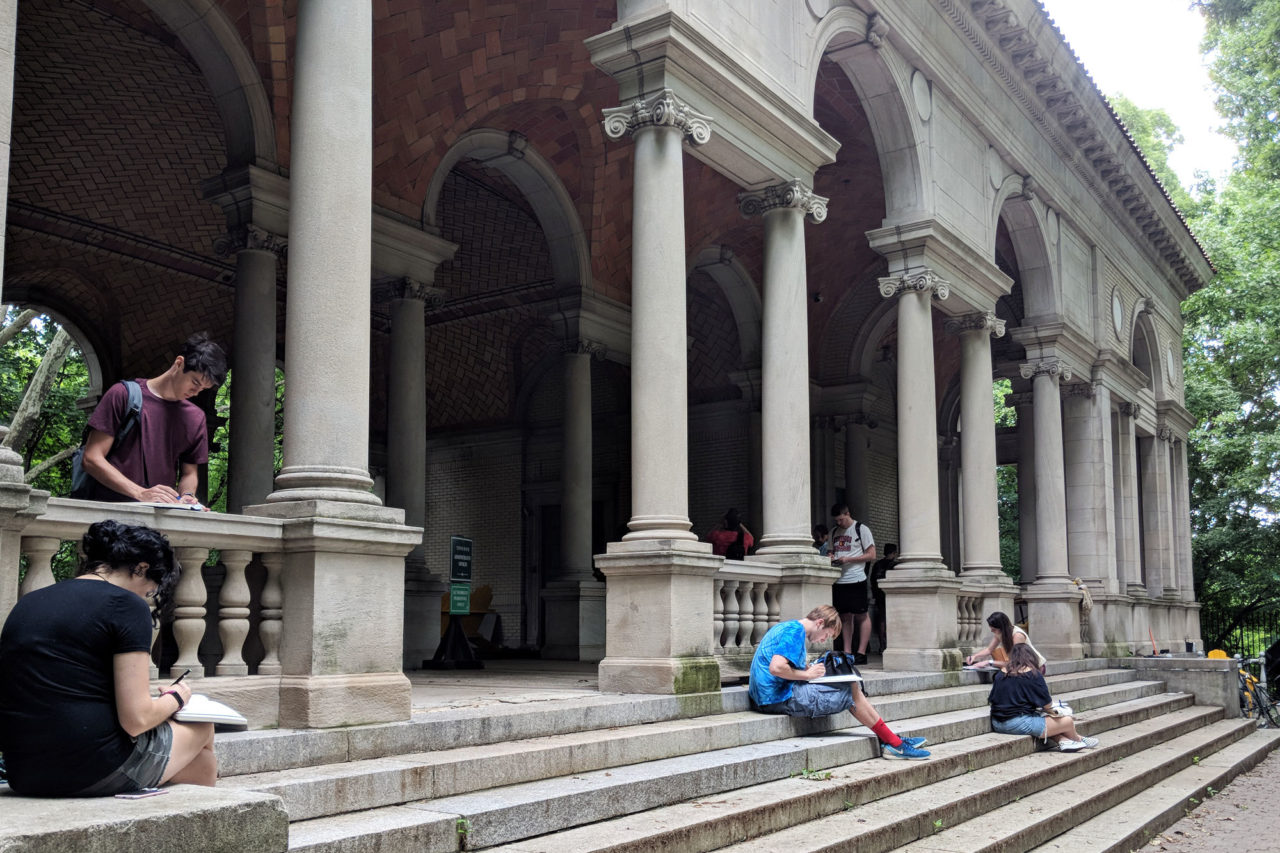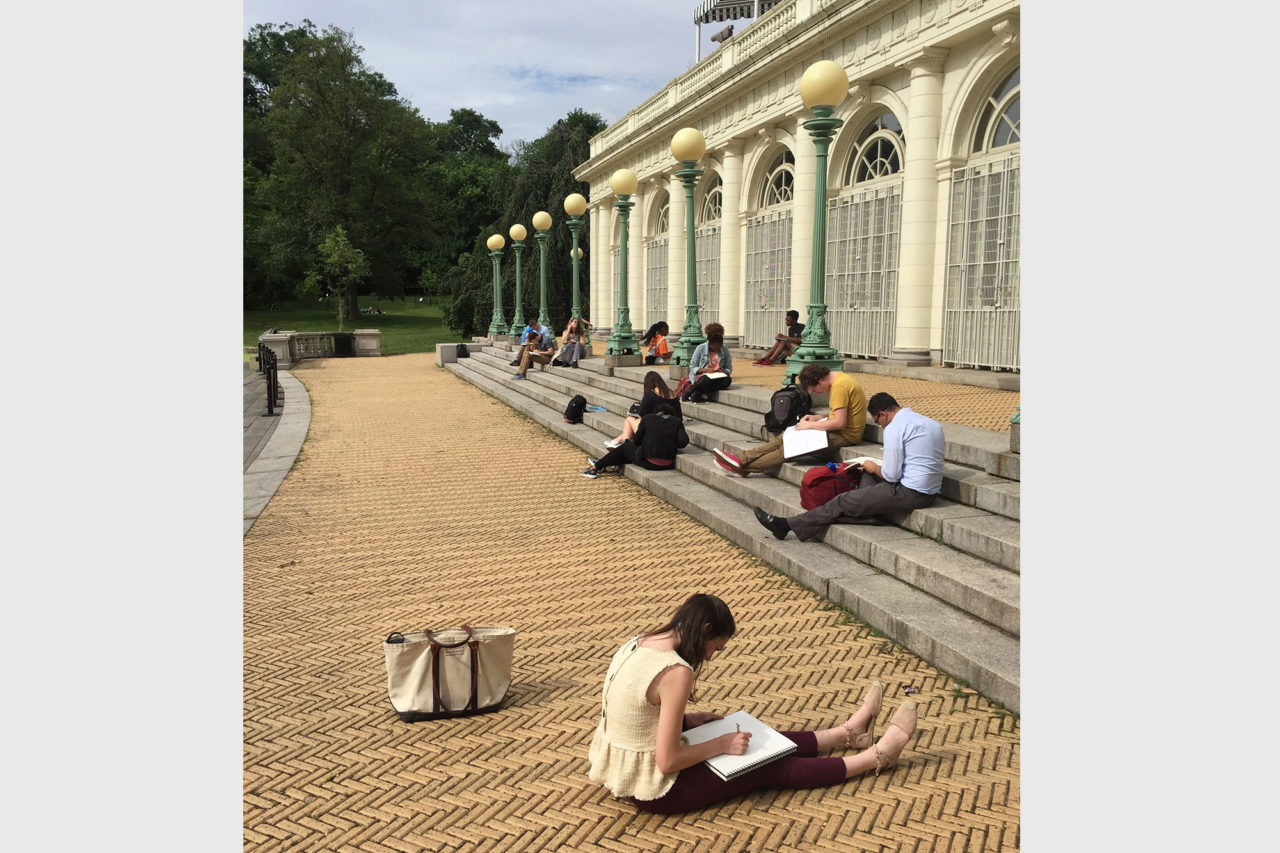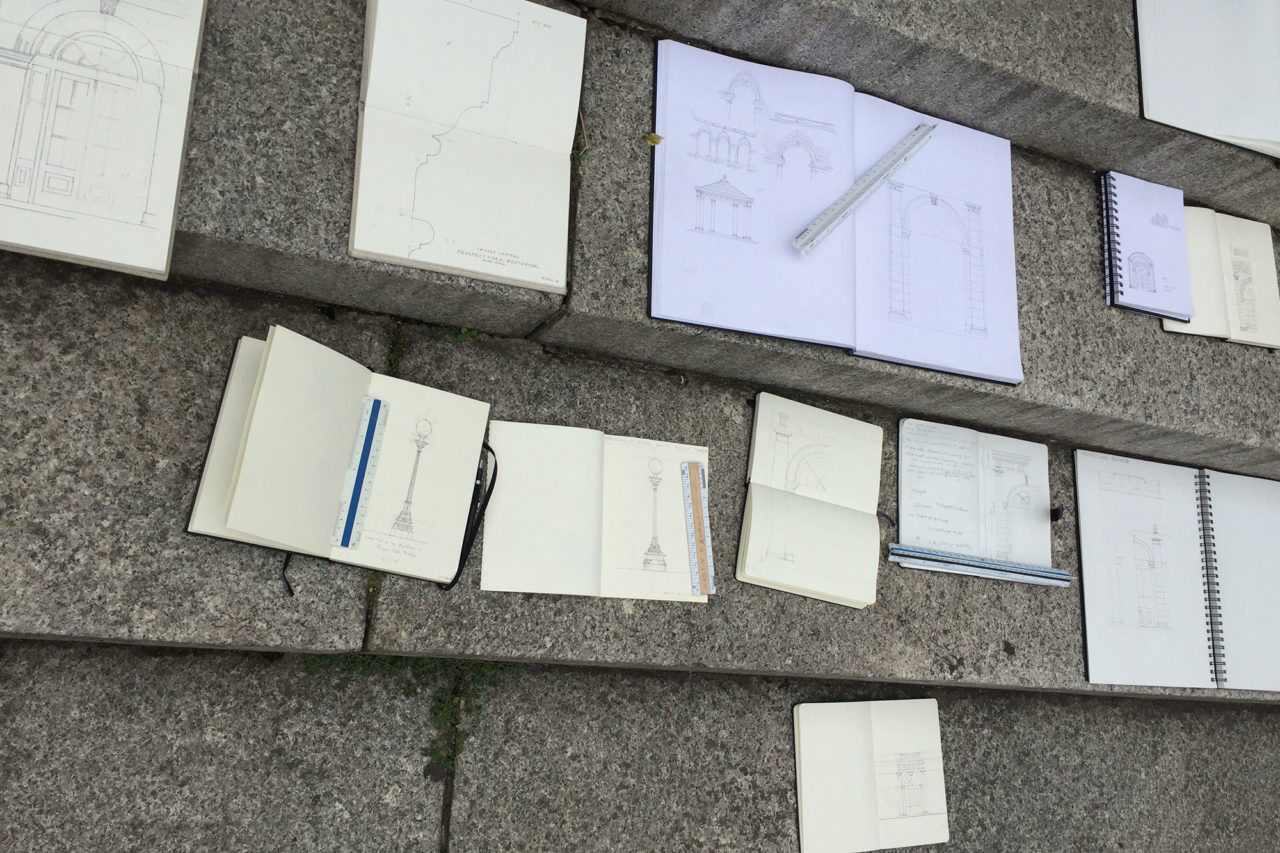 June 21st, by Andrés S. Martinez

We began the day by drawing the Doric Order. Instructor Martin Brandwein lead the lecture with assistance from two teaching assistants. The first part of the day went by quickly as we progressed in our drawing of the Doric column, entablature, and pediment. Martin assured us that this order was difficult to draw, so he did not make us feel pressured to complete our drawings to perfection.
As the day continued, we were taught by George Saumarez Smith - a talented English Classicist - whose aim was to help us make sense of measured drawing. We put this lesson into practise by drawing balusters to scale. The day was ended with a lecture given by George on romanticism in the classical language.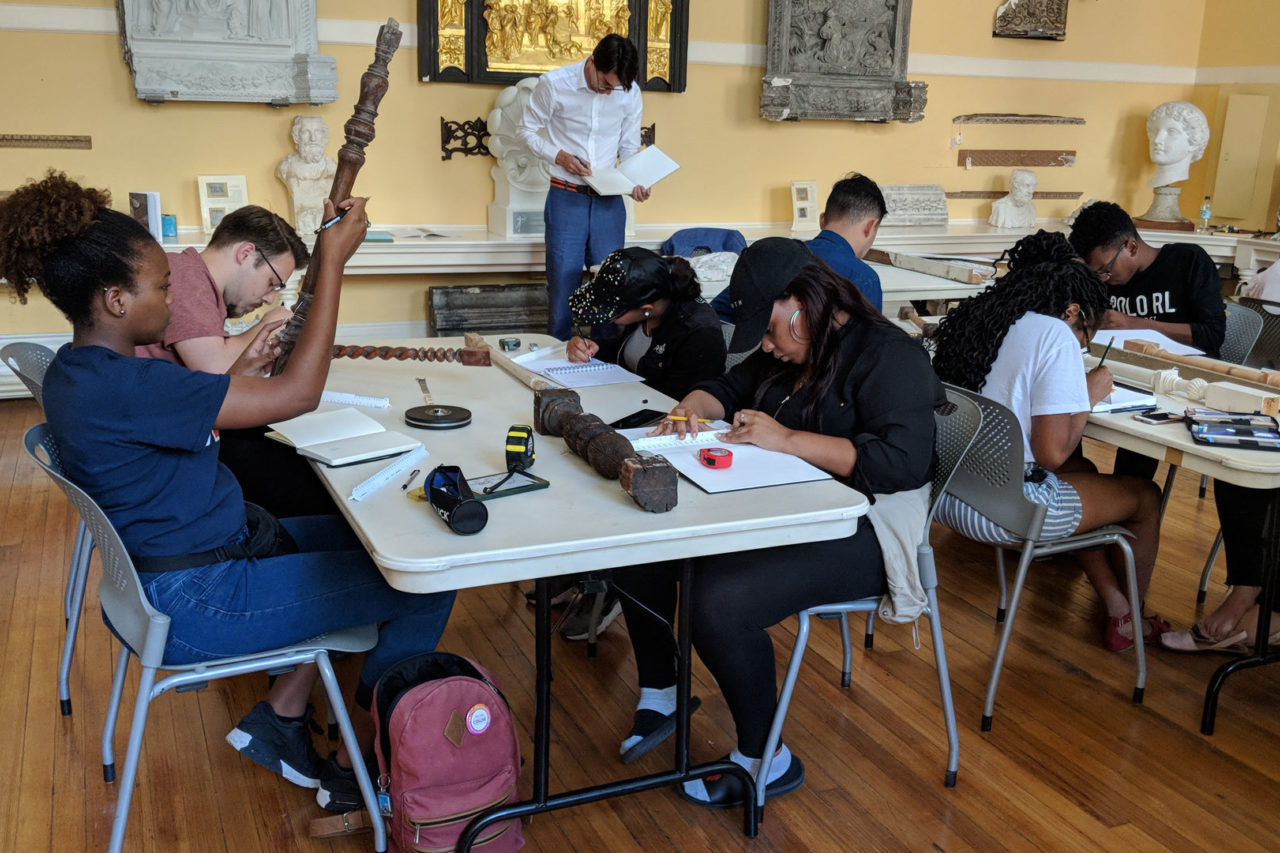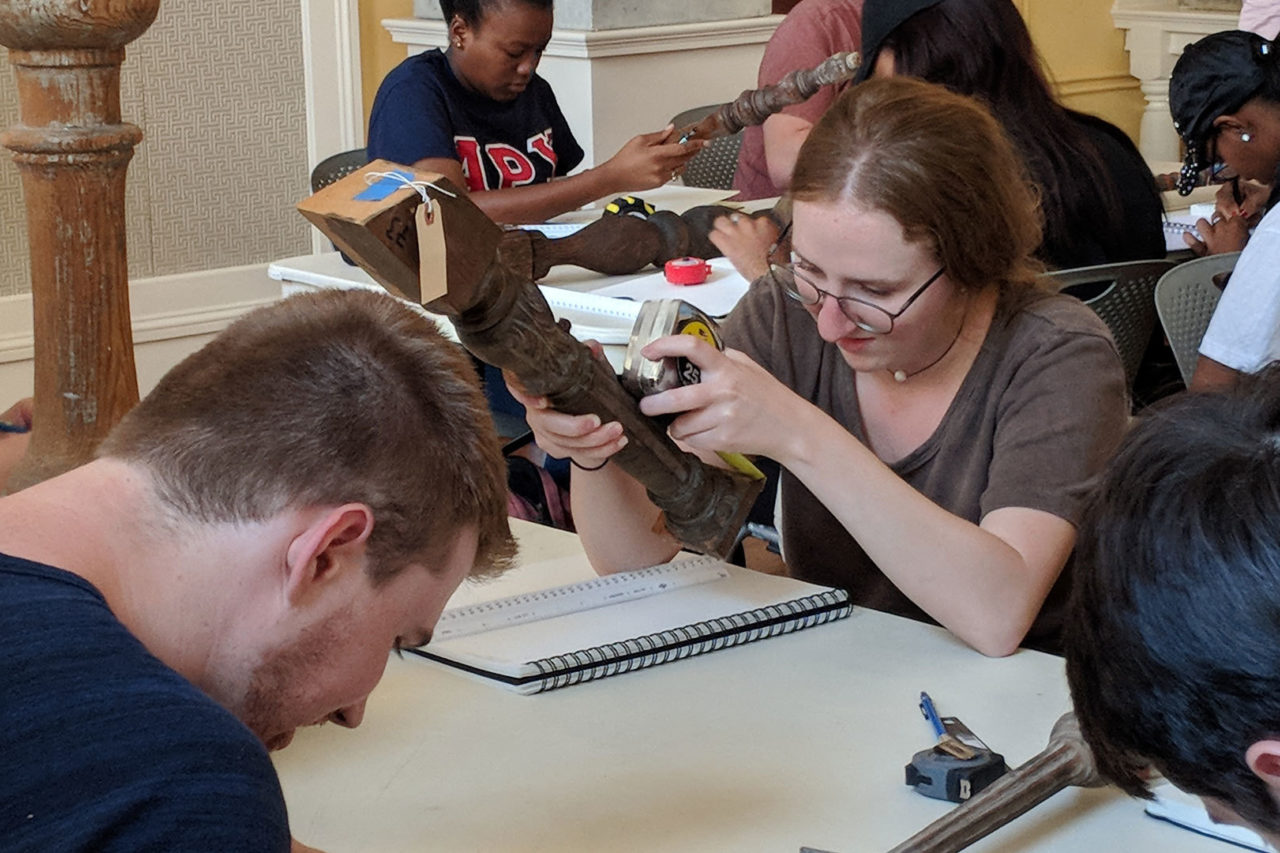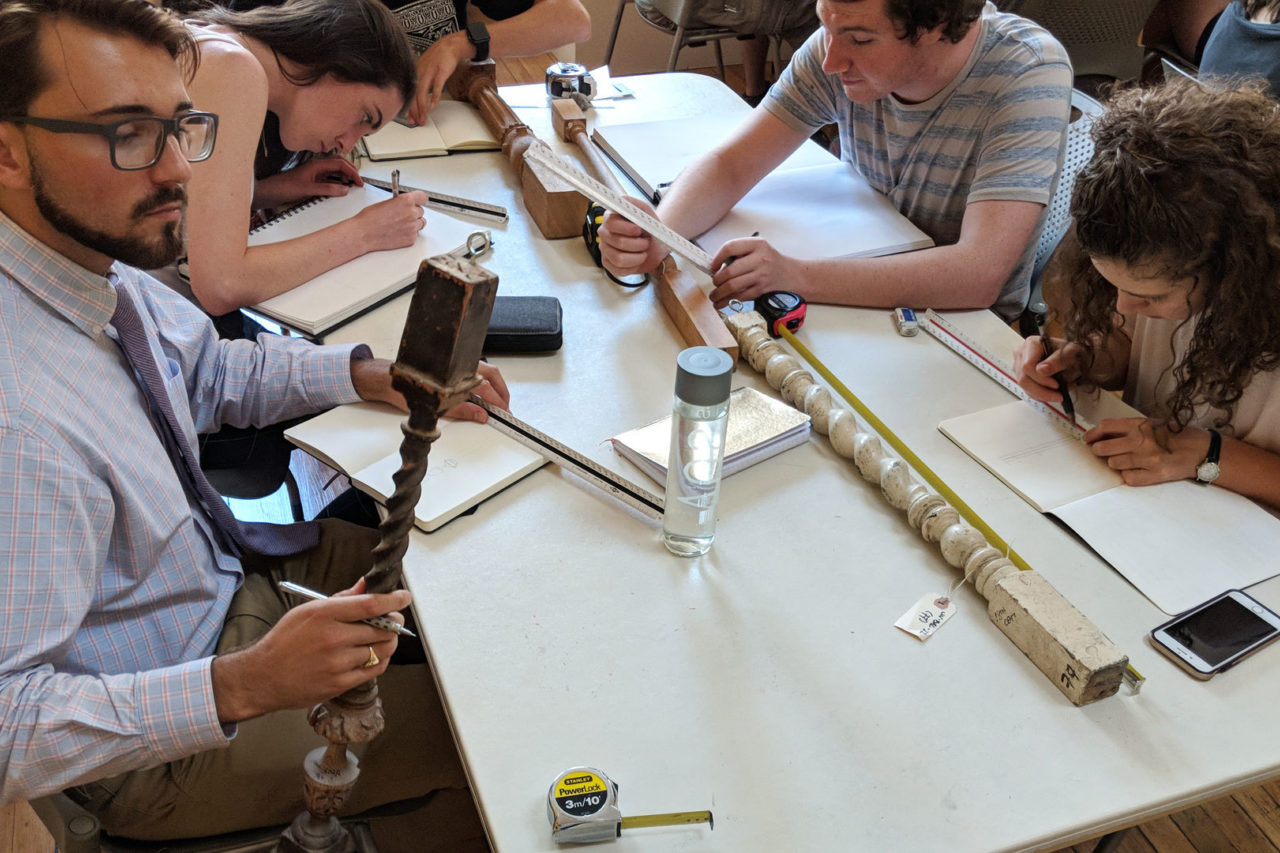 June 20th, by Alessandra Giannasca

Today we spent the morning and afternoon working on our hand drafting skills, led by instructors Mason Roberts of Robert A.M. Stern Architects and Kellen Krause of Historical Concepts. The morning began with a brief introduction to the materials needed for hand drafting and techniques we could use to refine our drawings. The rest of the time was spent creating three drawings of a small temple. The final composition included a front elevation, a side elevation, and a floorplan of the temple. The day ended with a lecture by Aric Lasher of HBRA Architects, who primarily focused on the concepts of tradition and modernism in architecture, as well as the "truth" of architecture.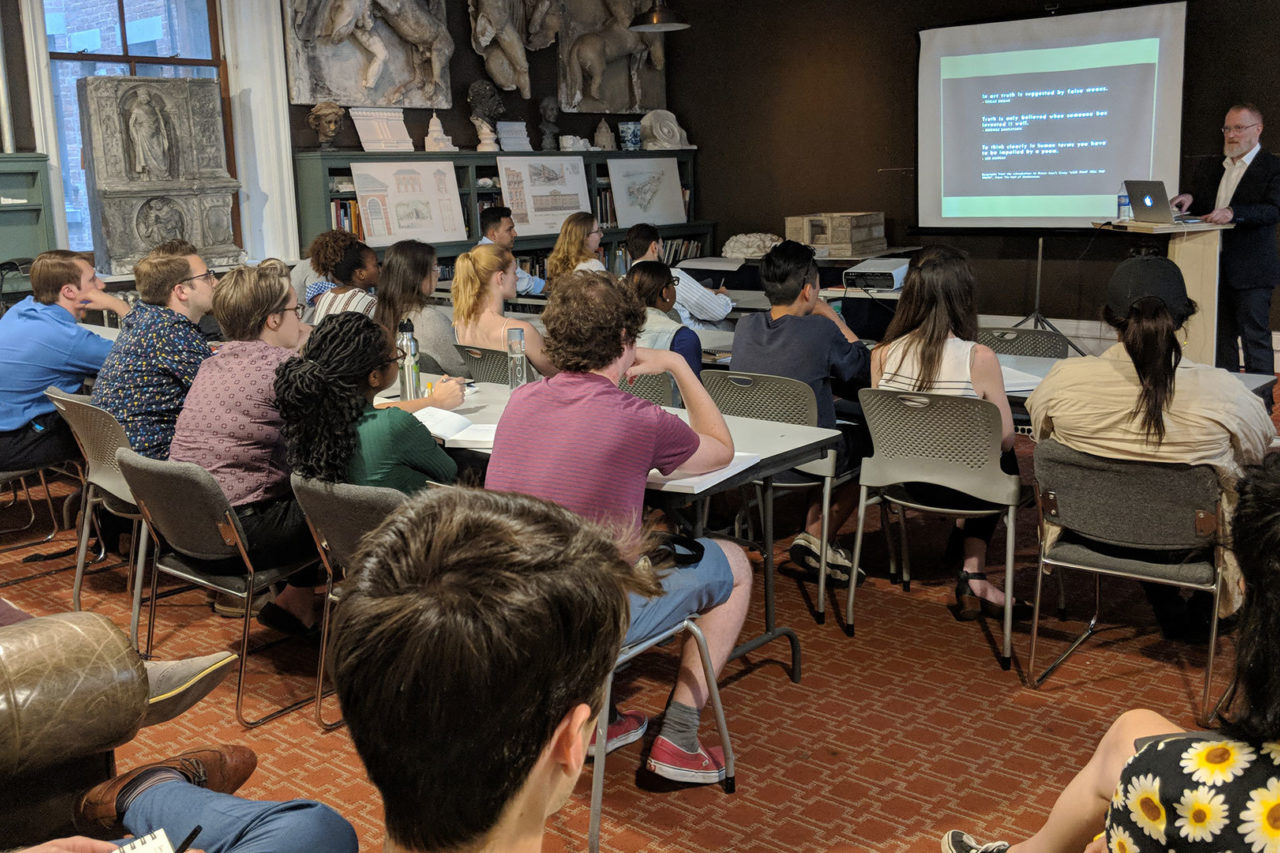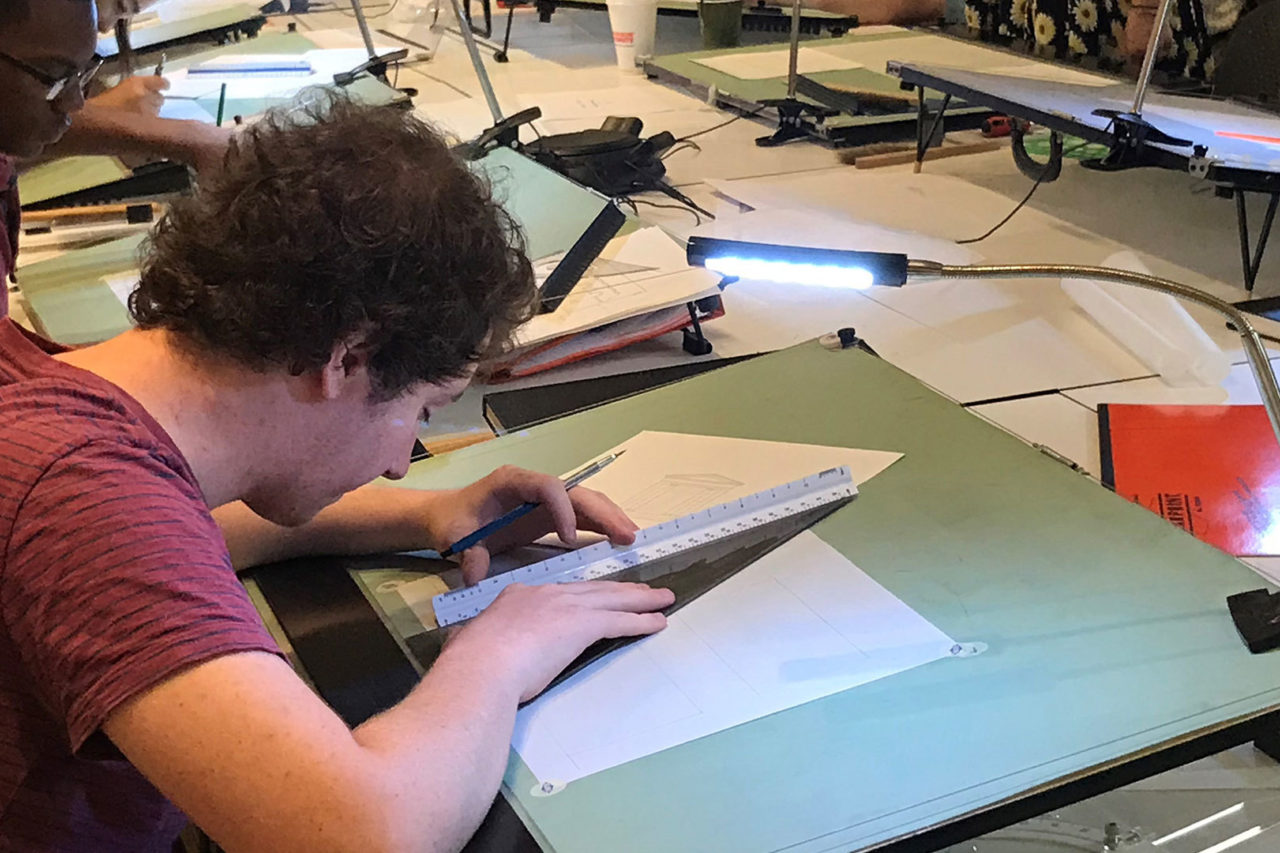 June 19th, by Abraham Calhoun
We started off today by learning about the Tuscan Order with instructors Martin Brandwein and teaching assistant Mark Jackson. After carefully picking out an overall scale to fit our page, we learned how to divide the overall order height into certain fractions in order to pick appropriate proportions.
Following lunch, we left the classroom and headed out to Bryant Part with Stephen Chrisman, Mark Jackson, and Aaron Helfand to learn how to make measured drawings. To finish off, we worked with Martin Burns who taught us about analytical sketchbook drawing, where we focused on the plan and elevation of a Renaissance Palazzo.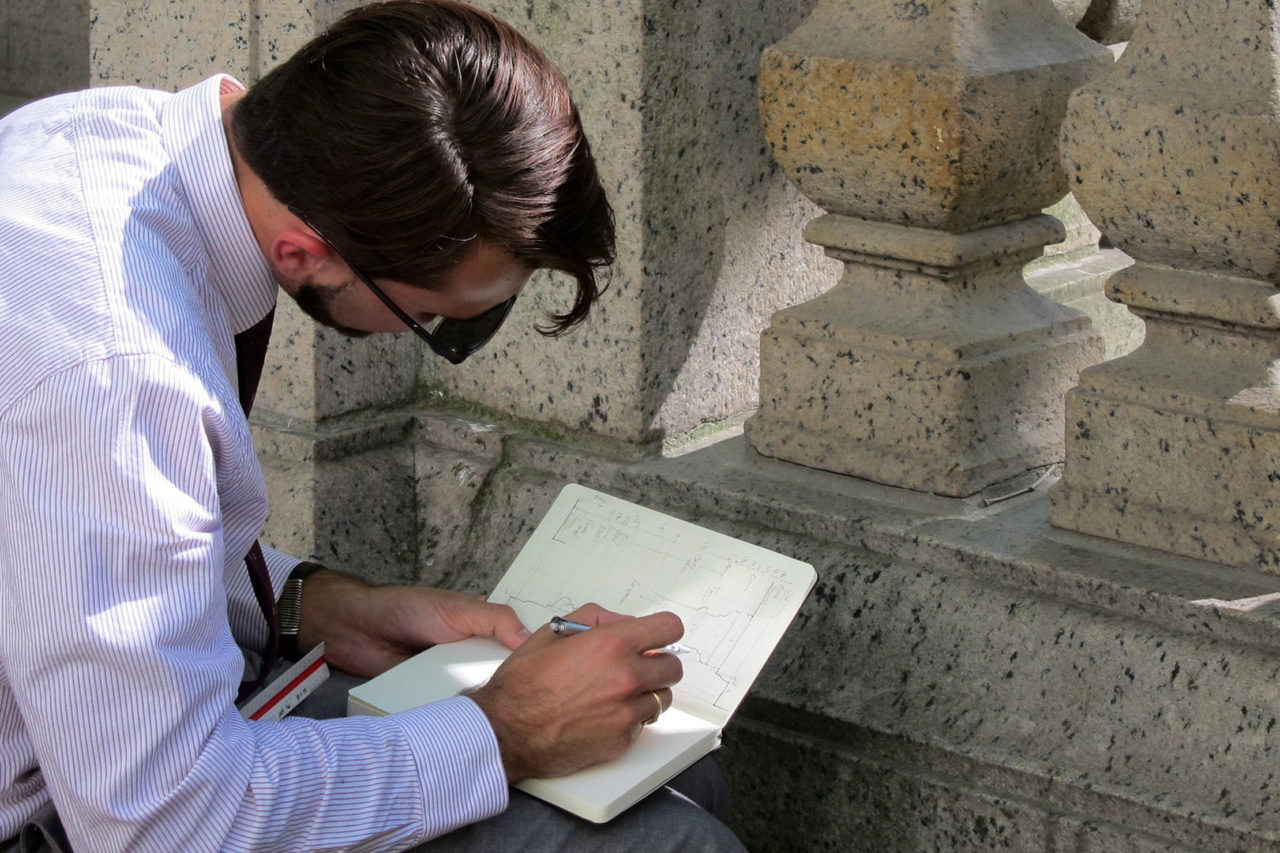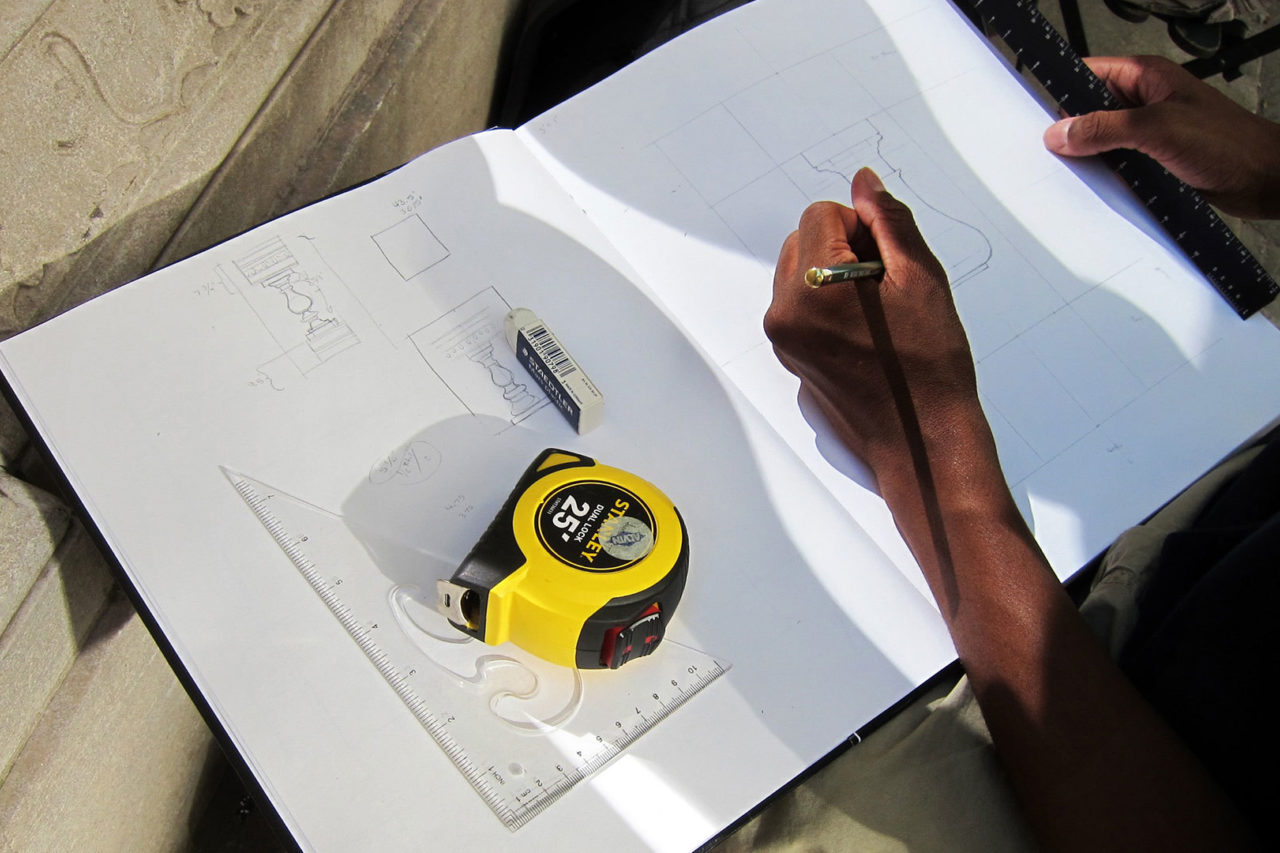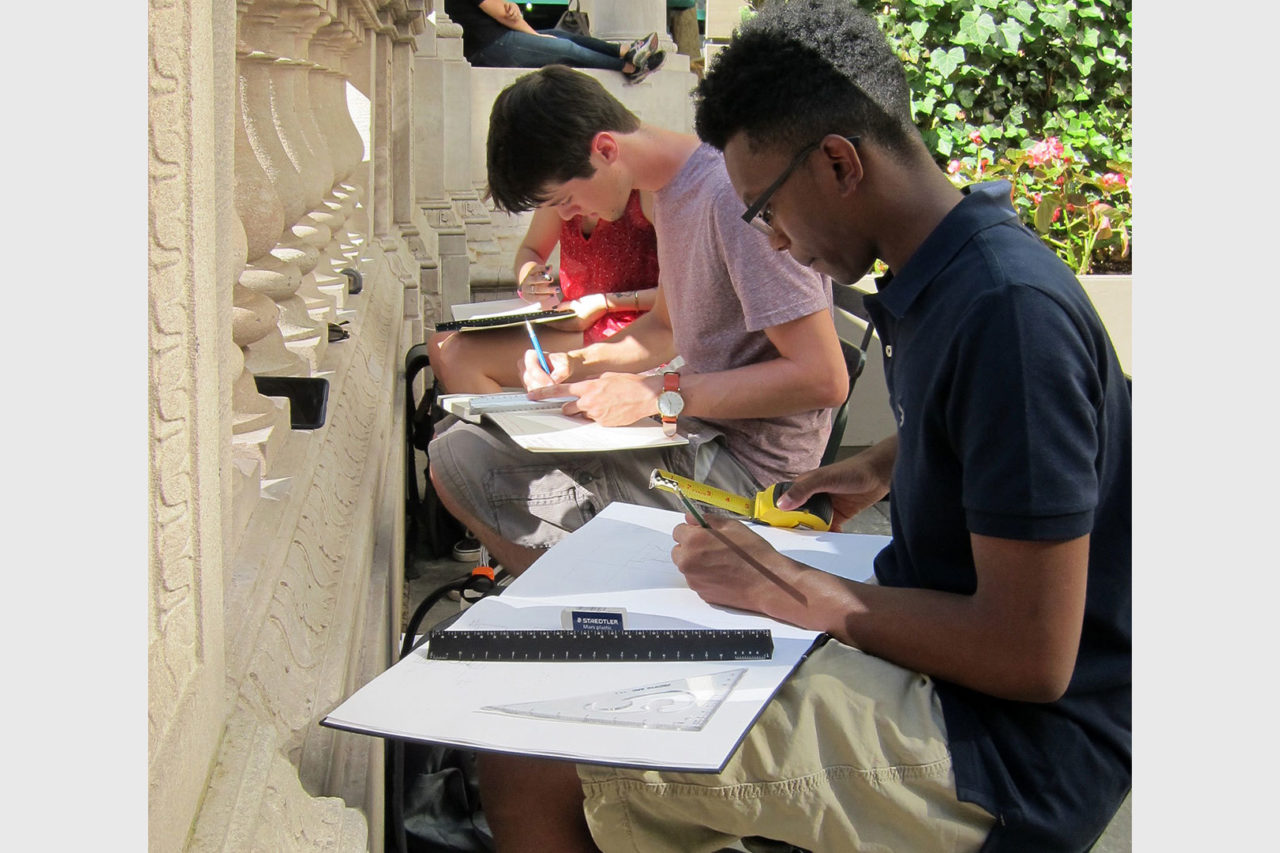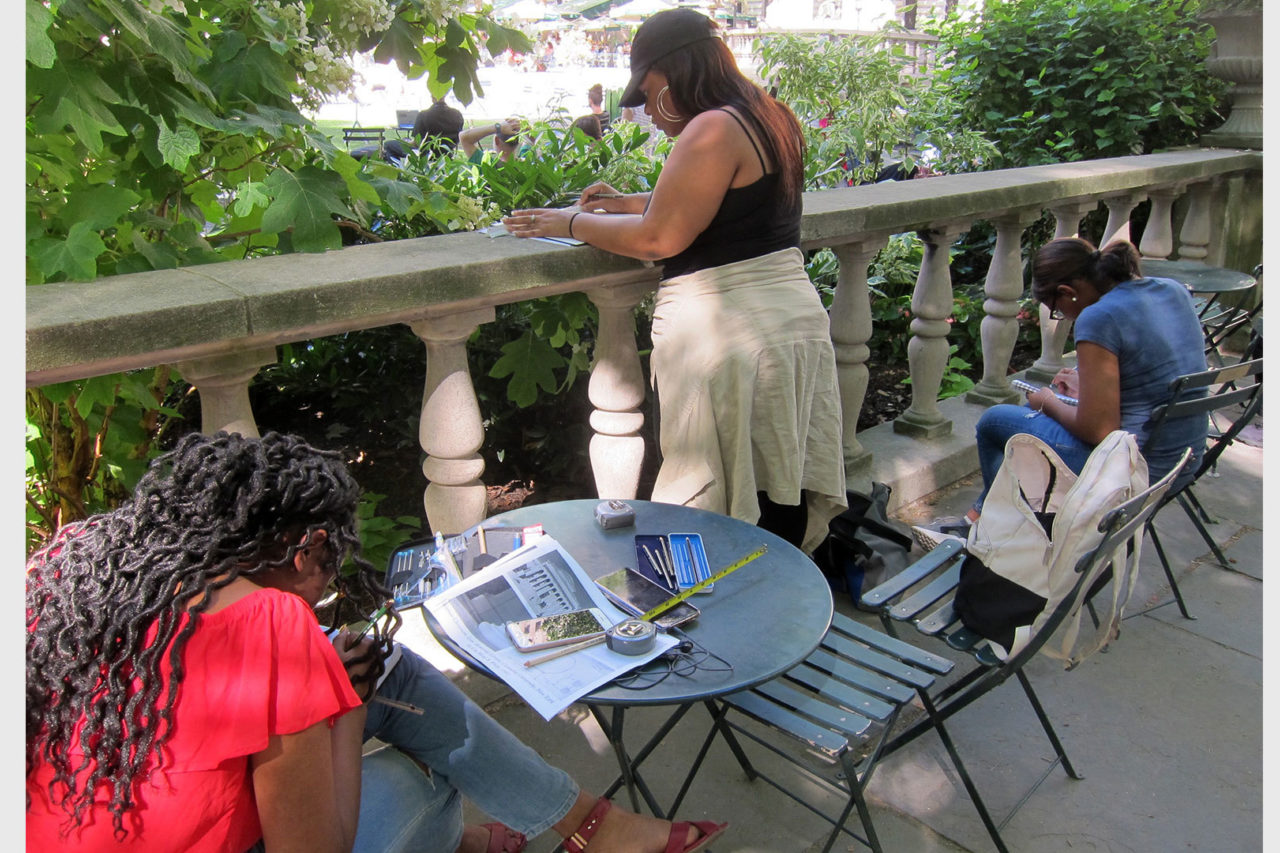 July 18, by Africa Washington
The first day of the ICAA Summer Studio in Classical Architecture was filled with introductions. Everyone introduced themselves, and we were able to view each other's work and talent. We also got acquainted with the area in which we would be working during the program.
Instructors Michael Mesko and Martin Brandwein gave us an overview of what we could expect to see in the upcoming weeks, as well as an introduction to different concepts such as mouldings, the orders, and the art of classical architecture in general.
In the evening, we were able to meet with our mentors at an ICAA hosted event. A myriad of people from all backgrounds were in attendance, with everyone mingling and having a great time. Overall, the first day of ICAA was amazing, and we expect many more amazing days to come.