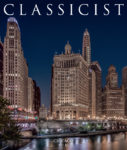 Classicist No. 16
Focused on Chicago, the Classicist No. 16 explores the city's rich architectural history as well as contemporary examples of classical design through professional and student portfolios as well as academic articles authored by leaders within the field. Contributors include Guest Editors Stuart Cohen and Julie Hacker of Cohen & Hacker Architects; Ann Lorenz Van Zanten, the first Curator of Architecture at the Chicago Historical Society; Jeanne Sylvester, founder of Sylvester Historic Consultants, LLC; Rolf Achilles, architectural historian and member of the board of the Richard H. Driehaus Museum and the Hegeler Carus Mansion; David Van Zanten, professor emeritus at Northerwestern University; Edward Keegan, architect and writer; and Aric Lasher, president and director of design at HBRA Architects. Original cover photography and additional interior images by James Caulfield.
Book details:
Contents:
1.) Letter from the Editors by Stuart Cohen and Julie Hacker
2.) Charles Atwood, Daniel Burnham, and the Chicago World's Fair by Ann Lorenz Van Zanten
3.) The 'Beaux-Arts Boys' of Chicago: An Architectural Genealogy, 1890-1930 by Jeanne Sylvester
4.) Teaching Classicism in Chicago, 1980-1930 by Rolf Achilles
5.) Frank Lloyd Wright and Beaux-Arts Design by David Van Zanten
6.) Frank Lloyd Wright and the Classical Plan by Stuart Cohen
7.) Chicago's Skyscraper Urbanism by Stuart Cohen
8.) Modern Classicism in Chicago: 1970s-1990s by Edward Keegan
9.) A Novelist of the Past Amongst Historians of the Future by Aric Lasher
10.) Professional Portfolio
11.) Academic Portfolio
12.) Selected Bibliography on Chicago Architecture
13.) Sponsors
The Guest Editors of the Classicist No. 16 are Stuart Cohen and Julie Hacker of Cohen & Hacker Architects based in Chicago, IL.
Publisher Info:
ISBN: 9781733030908
Publisher: Institute of Classical Architecture & Art
Territory: USA & Canada
Size: 9.5 in x 11.25 in
Pages: 152pp., Numerous illustrations
Binding: Paperback