Brickwork Miscellany: A Look at Some Distinctive Treatments of Bonds and Joints
Classical Comments by Calder Loth
Senior Architectural Historian for the Virginia Department of Historic Resources. Member of the Institute of Classical Classical Architecture & Art's Advisory Council.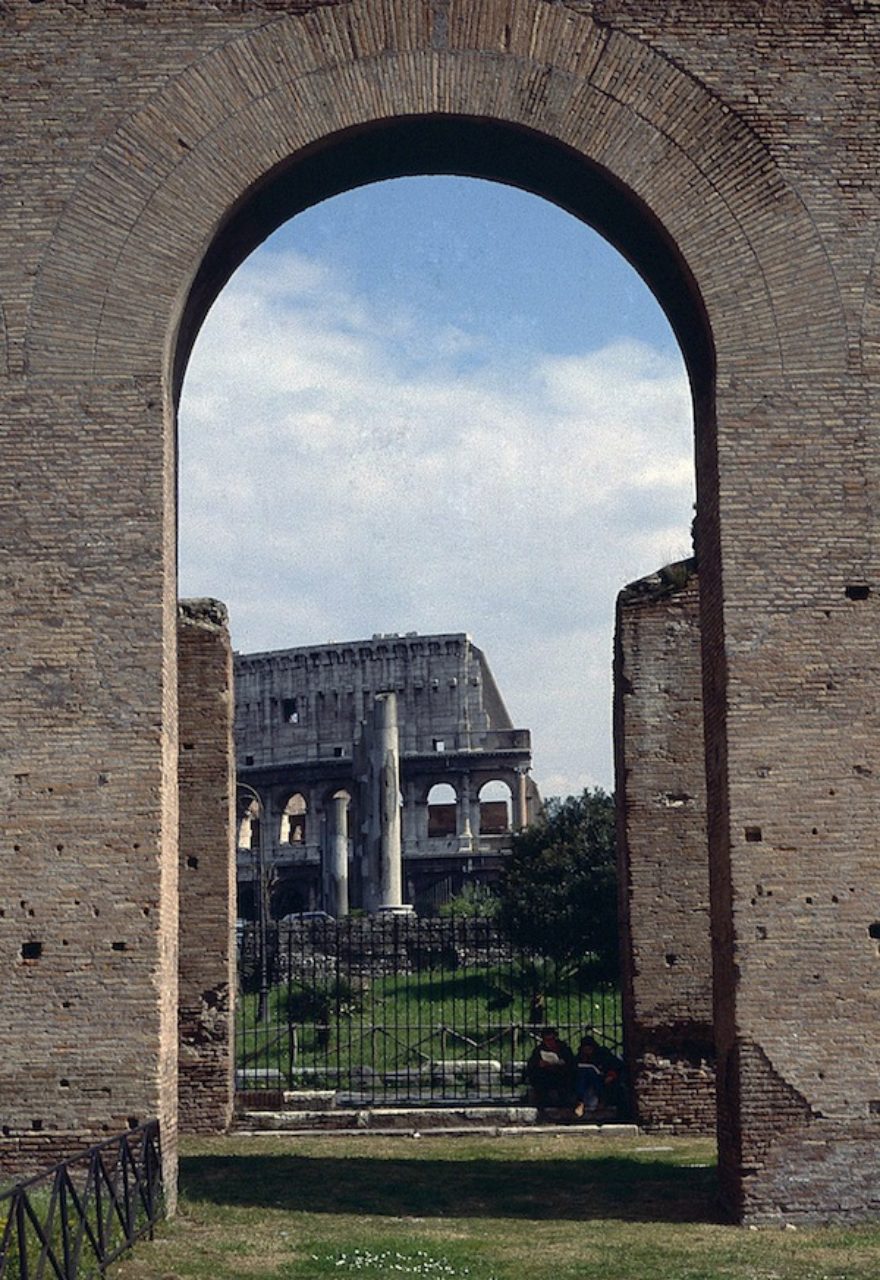 1: Brick arch, Basilica of Maxentius, Rome (Loth)
People have made bricks since 1700 B.C. when mud bricks dating to that time were found in the upper Tigris region of Iraq. The Romans perfected brick construction, using bricks for structural cores or as facing for concrete cores in the creation of impressive architectural and engineering works. For important buildings such as temples, the Romans covered their brick walls with marble veneer. Unlike modern bricks, Roman bricks are more like thin tiles, though dimensions varied considerably. Lengths can range from twelve to eighteen inches, and widths from six to twelve inches, but thickness stayed to around one and half inches. The thinness of Roman bricks is apparent in the core walls of the massive ruins of the Basilica of Maxentius in the Roman Forum, complete in 312 A.D. (Figure 2) Firing the bricks to a hard consistency kept them durable for centuries. The Romans had a practice of stamping the larger bricks with the name of the owner and often with the name of the brickyard and the date, allowing convenient documentation of many structures.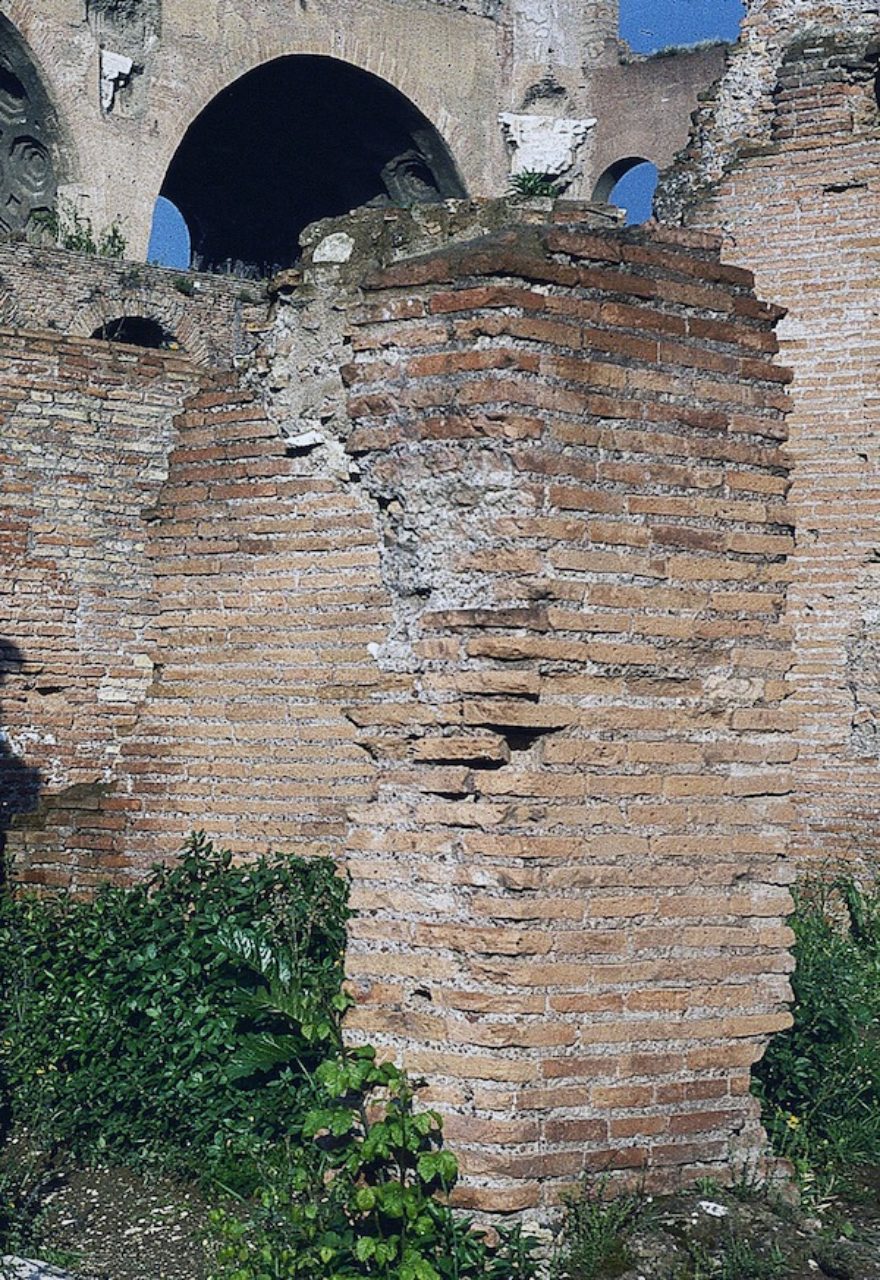 2: Roman brick, Basilica of Maxentius, Rome (Loth)
We see a splendid display of artistry in Roman brickwork in the Markets of Trajan, a work attributed to Apllodorus of Damascus, the Emperor Trajan's principal architect. Erected 100-110 A.D., the complex consists of a multi-tiered hemicycle of market stalls, offices, and apartments serving as a support facility for the adjacent Forum of Trajan. The middle level is a rich architectural composition of arches, pediments, pilasters, and entablatures, all constructed in thin Roman bricks and highlighted with bits of stone detailing. (Figure 3) It is uncertain whether the various brick surfaces were originally coated with stucco, or if all the brick elements were left exposed. Nevertheless, the precision of the masonry, particularly the moldings, strongly suggests that the brickwork was intended as a decorative color contrast to the stone details.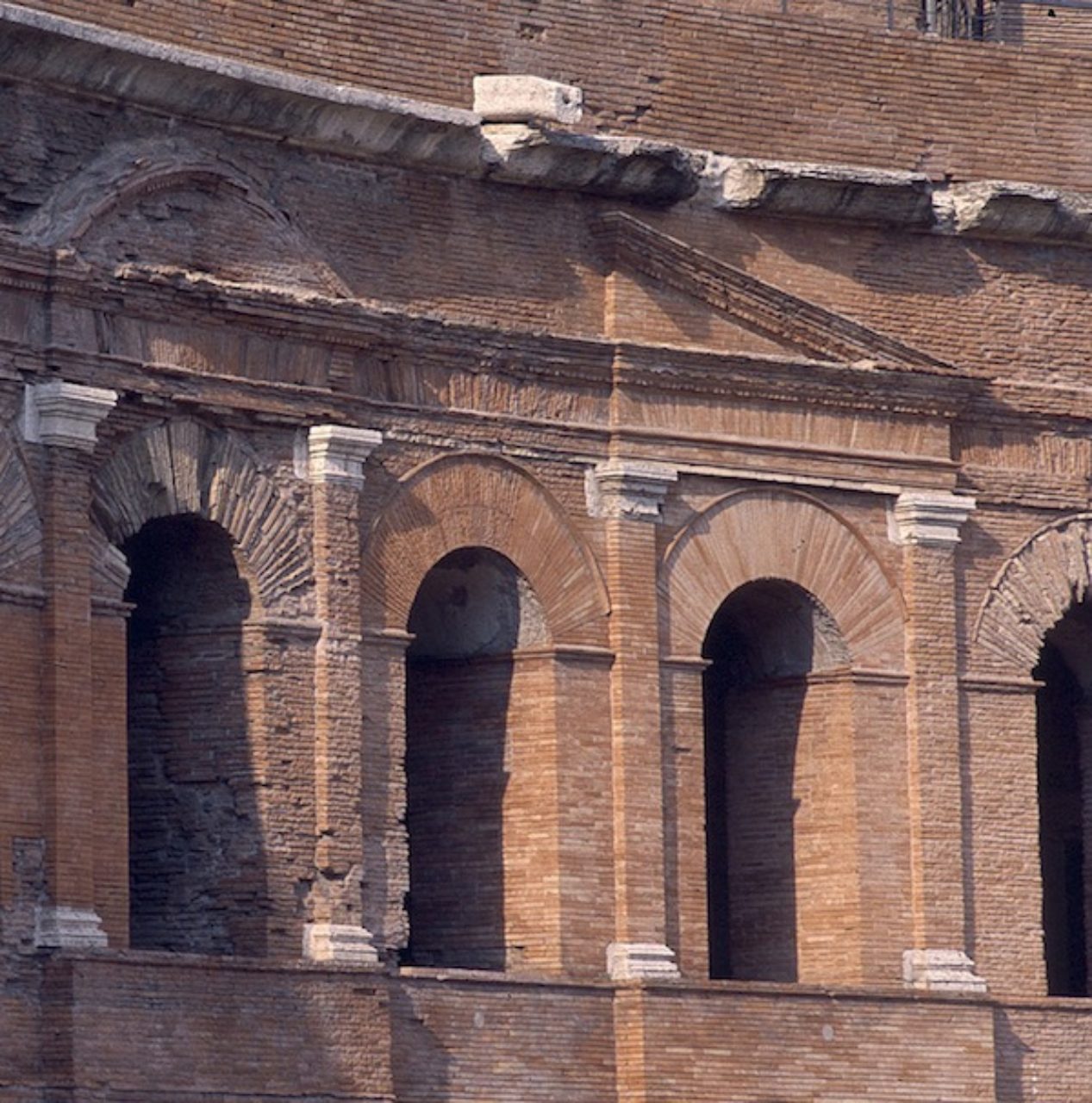 3: Markets of Trajan, Rome (Loth)
Roman brick became fashionable in the late 19th century for monumental classical works of the American Renaissance. A conspicuous use of Roman brick of this period is New York's famed Carnegie Hall, a bold composition in the Florentine Renaissance mode. (Figure 4) Designed by William Burnet Tuthill, and completed in 1891, the structure's original section is one of New York's last major works employing solid masonry construction though later additions incorporated steel frame. As with most examples, the Roman bricks here are a golden ochre color, providing compatibility with the building's profusion of terra cotta ornaments.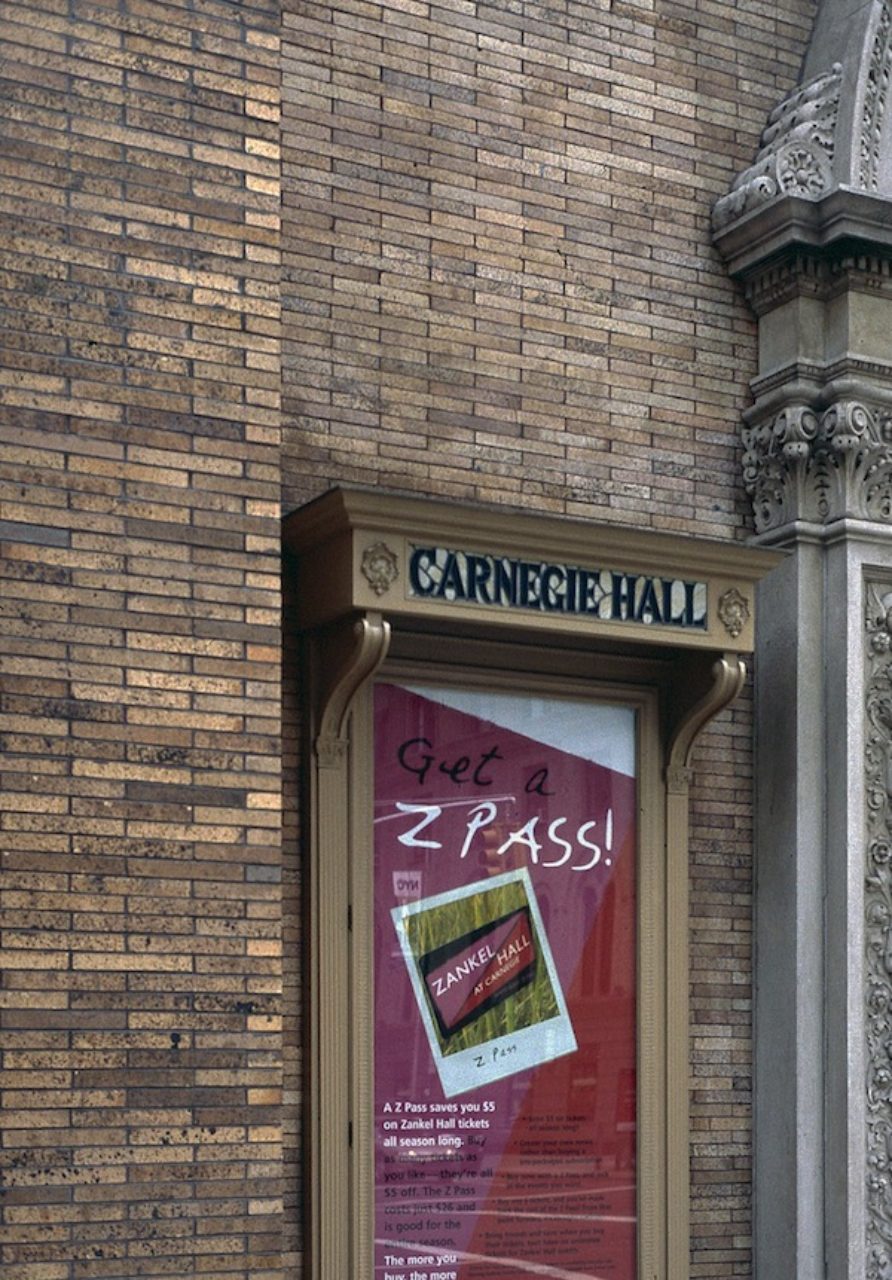 4: Carnegie Hall, New York City (Loth)
Frank Lloyd Wright relied on Roman brick to accentuate the horizontality of his Prairie Style houses. We see it used effectively in the 1909 Robie house, his seminal work in the Prairie idiom. (Figure 5) For its structural system, Wright employed double-wythe brick walls laid in standard-size bricks, but he faced their exterior surfaces with a red-orange spotted Roman brick veneer. To emphasize the dwelling's long parallel lines, the horizontal joints are bedded in a cream-colored mortar while the thinner vertical joints are visually minimized through the use of a brick-colored mortar. Roman bricks remain commercially available and can provide an effective alternative to standard bricks in classical-style buildings.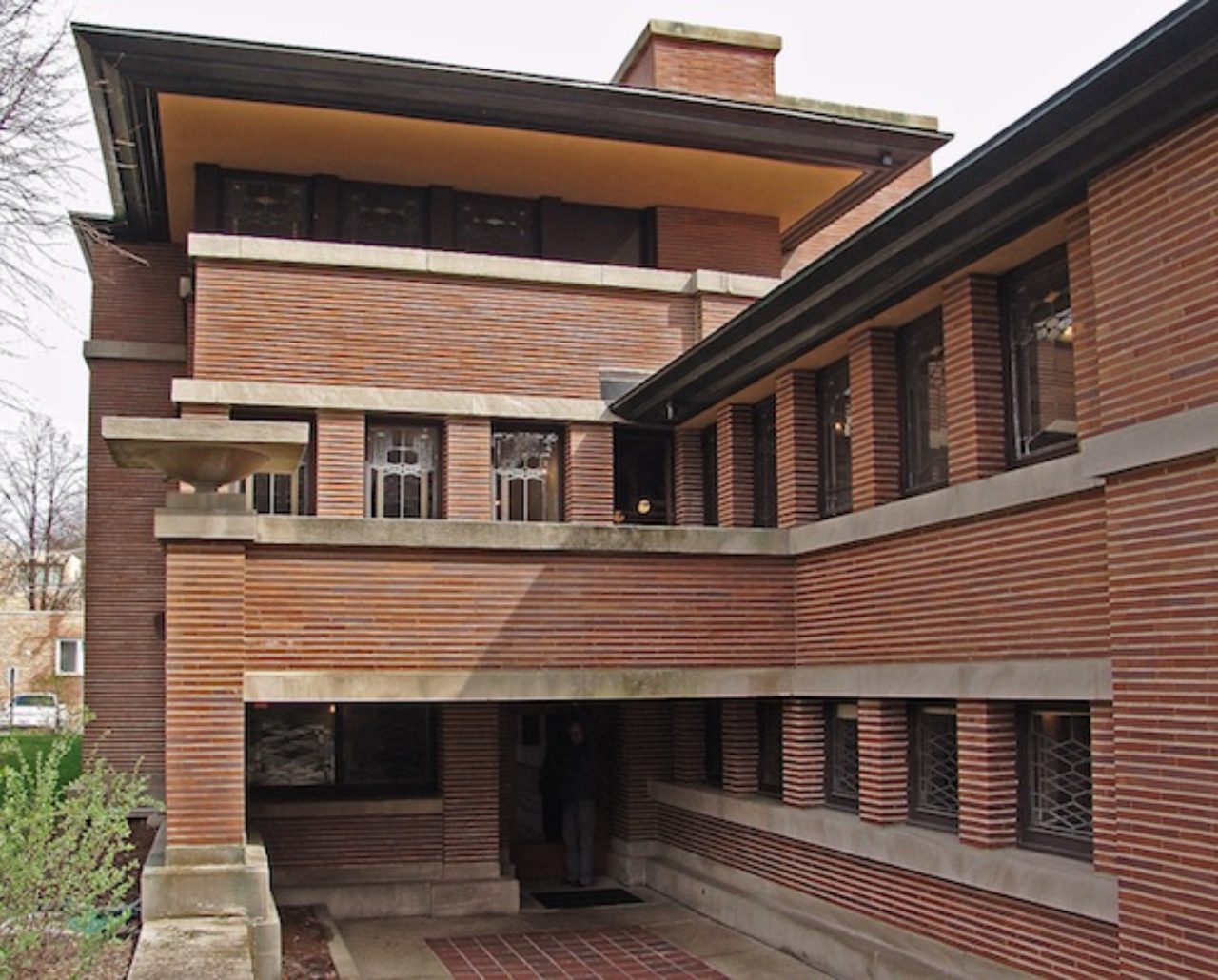 5: Robie House, Chicago (Lykantrop)
During the late 18th century, the practice of scoring mortar joints with a thin groove to provide visual regularity gave way to penciled joints. The word pencil in that period referred not just to a writing instrument, but also to a small pointed brush, the term deriving from the Latin penicillus—a small brush. Using a steadying straightedge, each mortar joint was painted (or penciled) with a thin white line so that from a distance the brickwork appears more precise and visually suggests a finer quality mortar. A comparatively late example of penciling survives in an attic of Enniscorthy, an 1850 Virginia plantation house. (Figure 6) This area remains exceptionally well preserved through being encased almost immediately within a later addition. The close-up view reveals the irregularity of the actual mortar joints resulting from the use of rough-edge handmade bricks.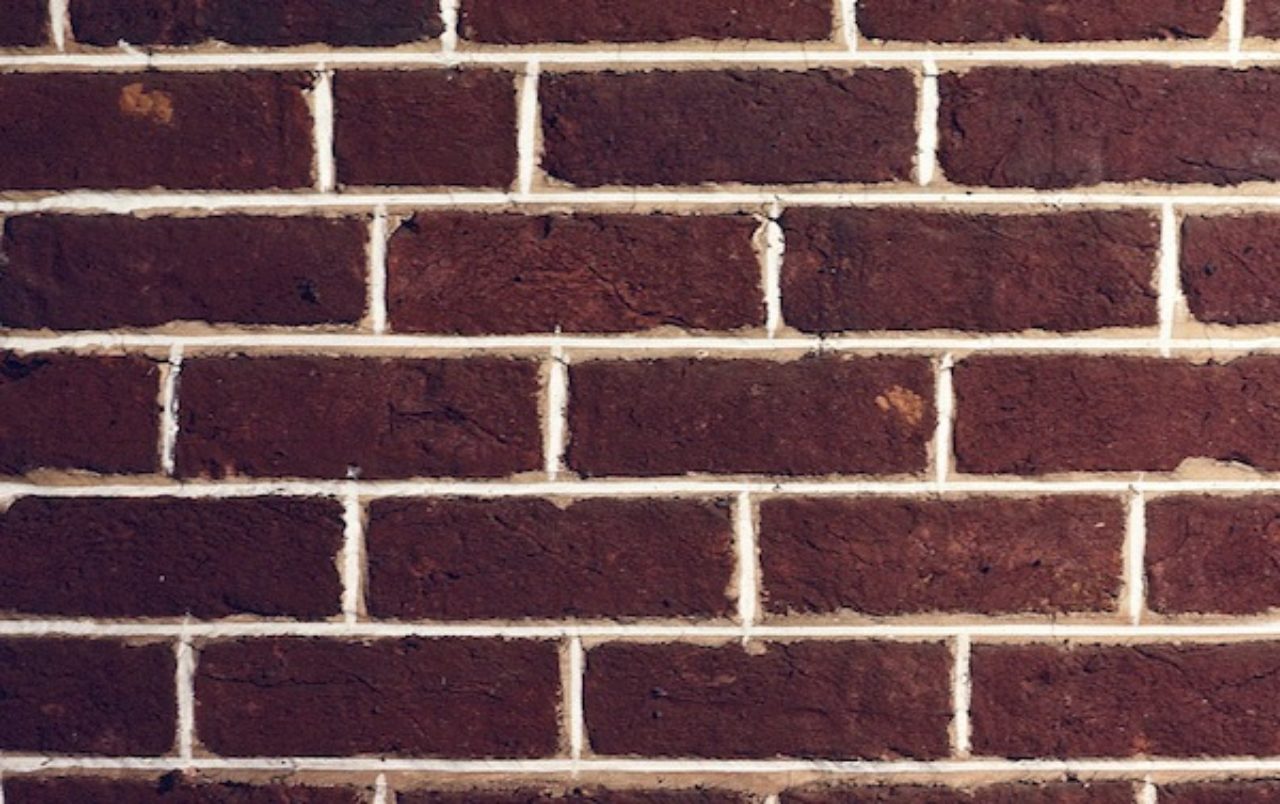 6: Penciled mortar joints, Enniscorthy, Albemarle County, Virginia (Loth)
The penciling of mortar joints was usually done in conjunction with the coating of the brick surface with red paint or redwash. Redwash had numerous recipes. Common ingredients included iron oxide and linseed oil, but sometimes blood was added. The redwash hid the folds and rough edges of handmade brick and served as an elementary waterproofing. In the section on bricklayer's labor, James Gallier's 1836 American Builder's General Price Book and Estimator lists the following price quote: "Brick fronts painted one coat, and the joints drawn white, per yard, 03 cts." We see a ca. 1820 example of original redwash and penciling on the front walls of the Jeffersonian student rooms at the University of Virginia. (Figures 7 & 8) Sheltering colonnades have protected the paint from weathering. Regrettably, original redwash and penciling are often removed in well-intended but misguided restoration projects, not recognizing the treatment as an important early feature.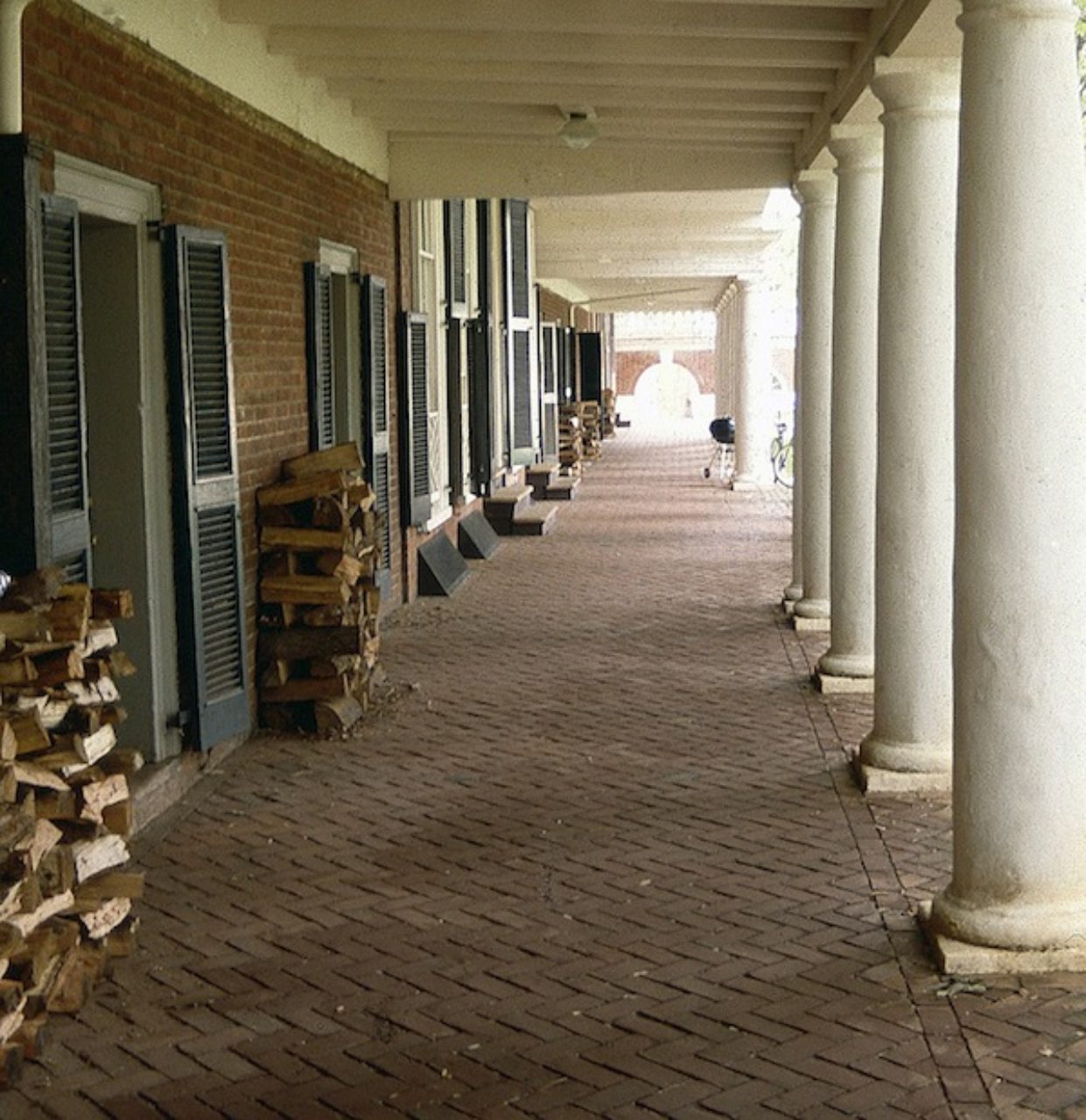 7: West Lawn, University of Virginia (Loth)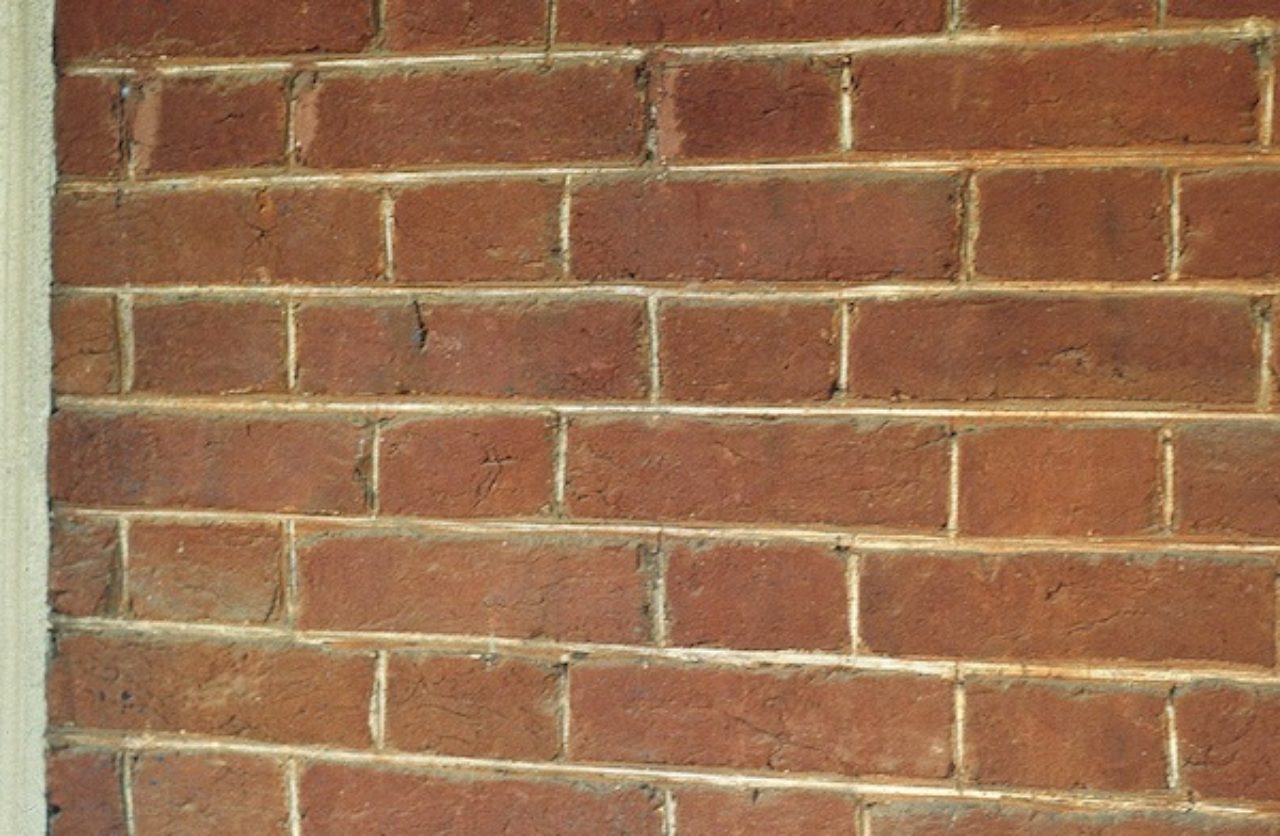 8: Painted and penciled brickwork, University of Virginia (Loth)
The side walls of Virginia's 1826 Goochland County Courthouse display a deviation from the more standard American or common bond used for secondary elevations in the early 19th century. (Figures 9 & 10) In place of a continuous course of headers to three or five courses of stretchers, the header courses here are substituted with courses of headers alternating with stretchers as in Flemish bond. This treatment is sometimes referred to as American bond with Flemish variant and normally is applied with three courses of stretchers rather than five. Though employed infrequently, it provided a more decorative alternative to regular American bond. We find examples of this bonding dating well into the 20th century. Typical of the period, the courthouse façade is laid in finely tooled Flemish bond.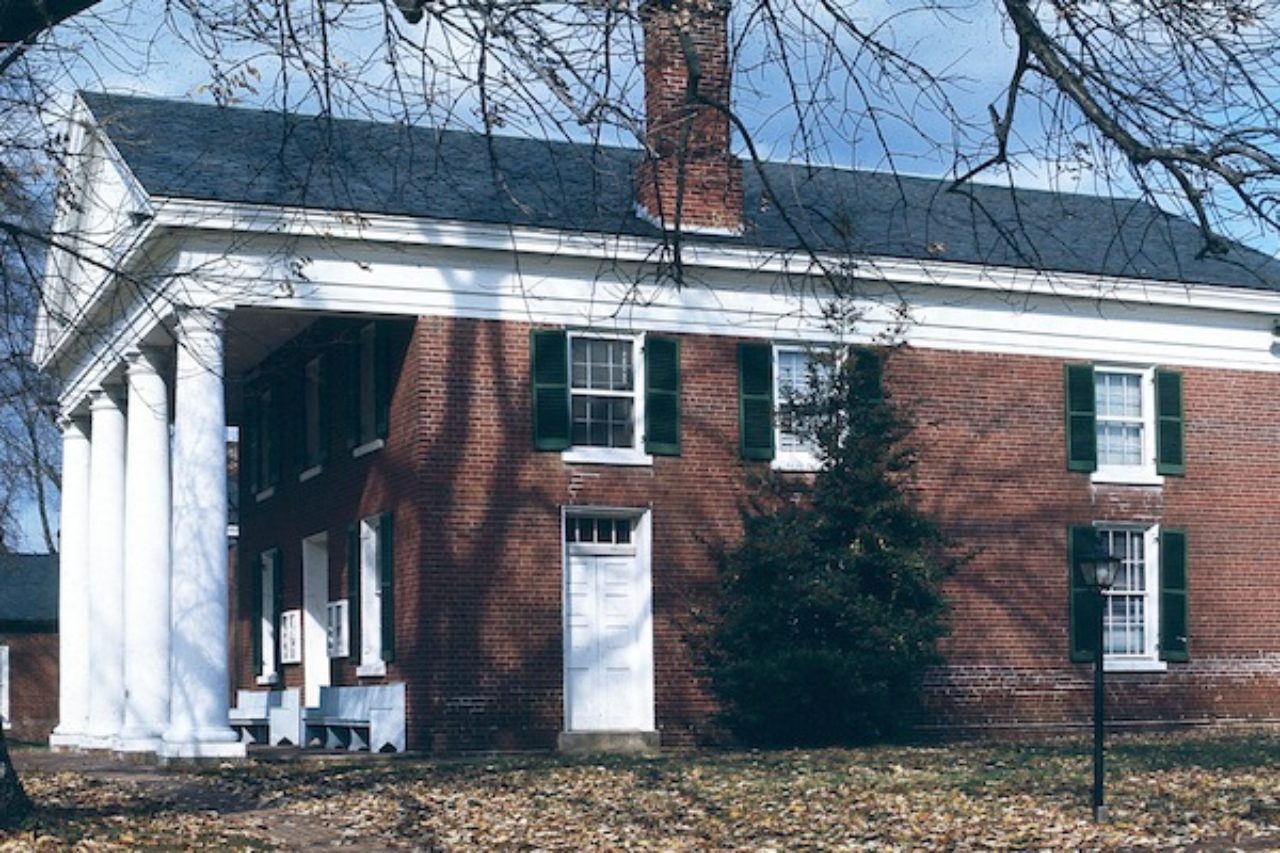 9: Goochland County Courthouse, Goochland, Virginia (Loth)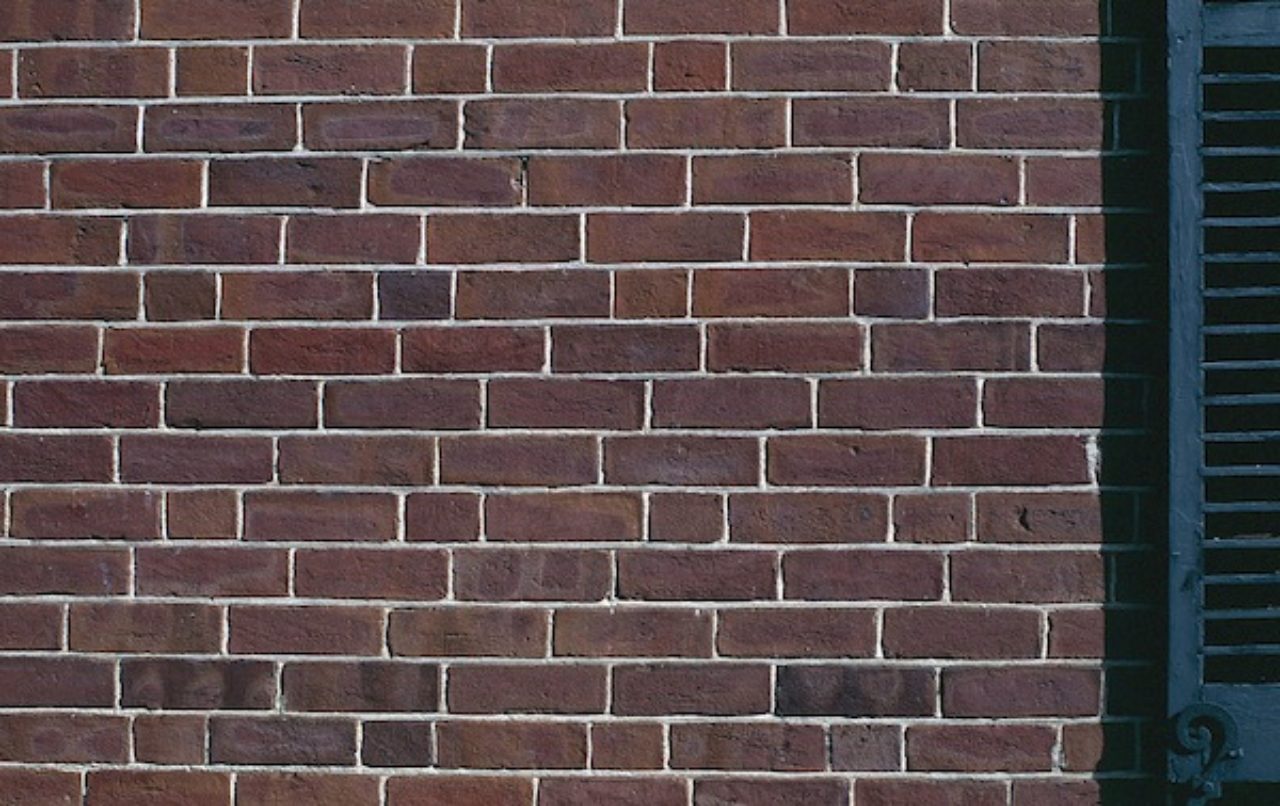 10: East wall, Goochland County Courthouse (Loth)
A distinctive but rare variation of standard Flemish bond is staggered Flemish bond. Instead of having the headers centered over the stretchers, the headers are vertically aligned in a staggered fashion. (Figure 11) This results in slightly wavy vertical striations of headers through the wall. The effect can be visually exaggerated with the use of glazed headers. Examples of staggered Flemish in Virginia are confined mostly to the western part of the state, particularly the central Shenandoah Valley, and generally date from the 1820s into the 1840s. The sample shown is the 1830s Treasurer's Office in the village of Washington, Virginia, the county seat of Rappahannock County.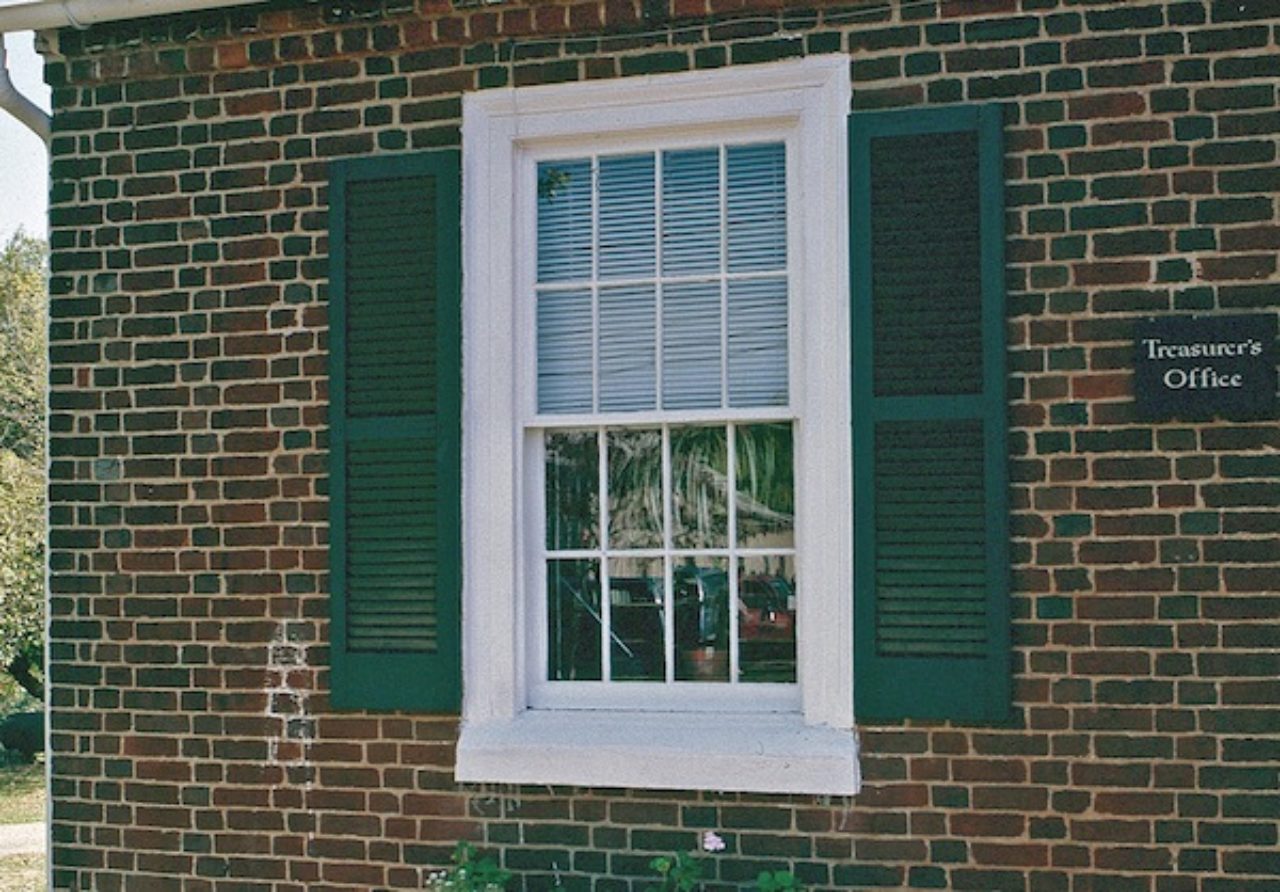 11: Treasurer's Office, Washington, Virginia (Loth)
Another brickwork style that gained popularity in the mid-19th century is stretcher bond, a bond consisting of all stretchers in every course. A typical example is the façade of the 1845 Campbell house in Lexington, Virginia. (Figure 12) The bricks here are handmade and likely had a redwash coating since eroded off. We might ask how bonding to the backing courses was achieved without the use of headers to tie to the core. A common method in this period and vicinity was the setting in of intermittent courses of square bricks as we see in a photograph of a partially demolished mid-19th century structure. (Figure 13)[1] From outward appearance, no one would know that the square bricks were not ordinary-size stretchers.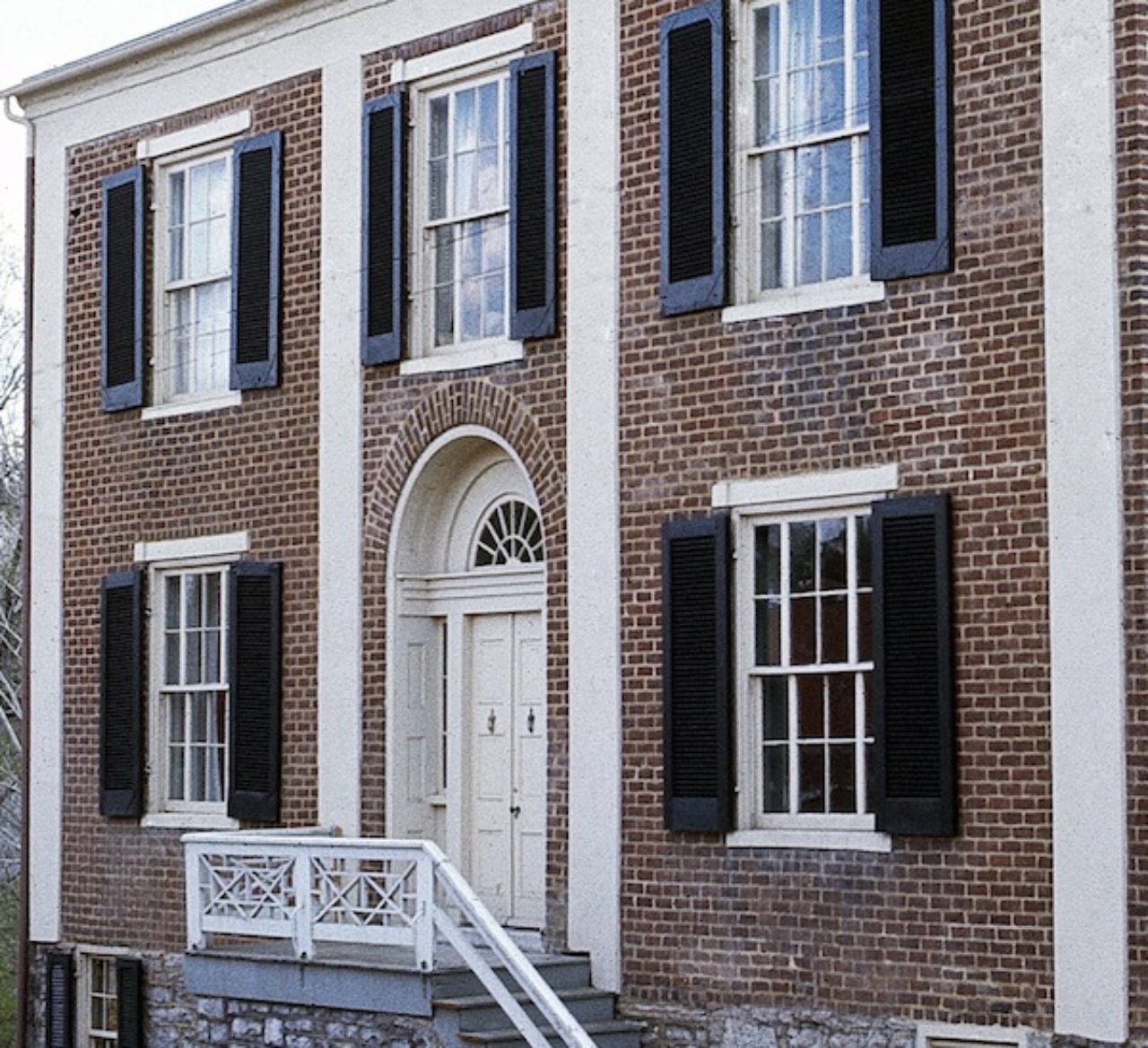 12: Campbell House, Lexington, Virginia (Virginia Dept. of Historic Resources)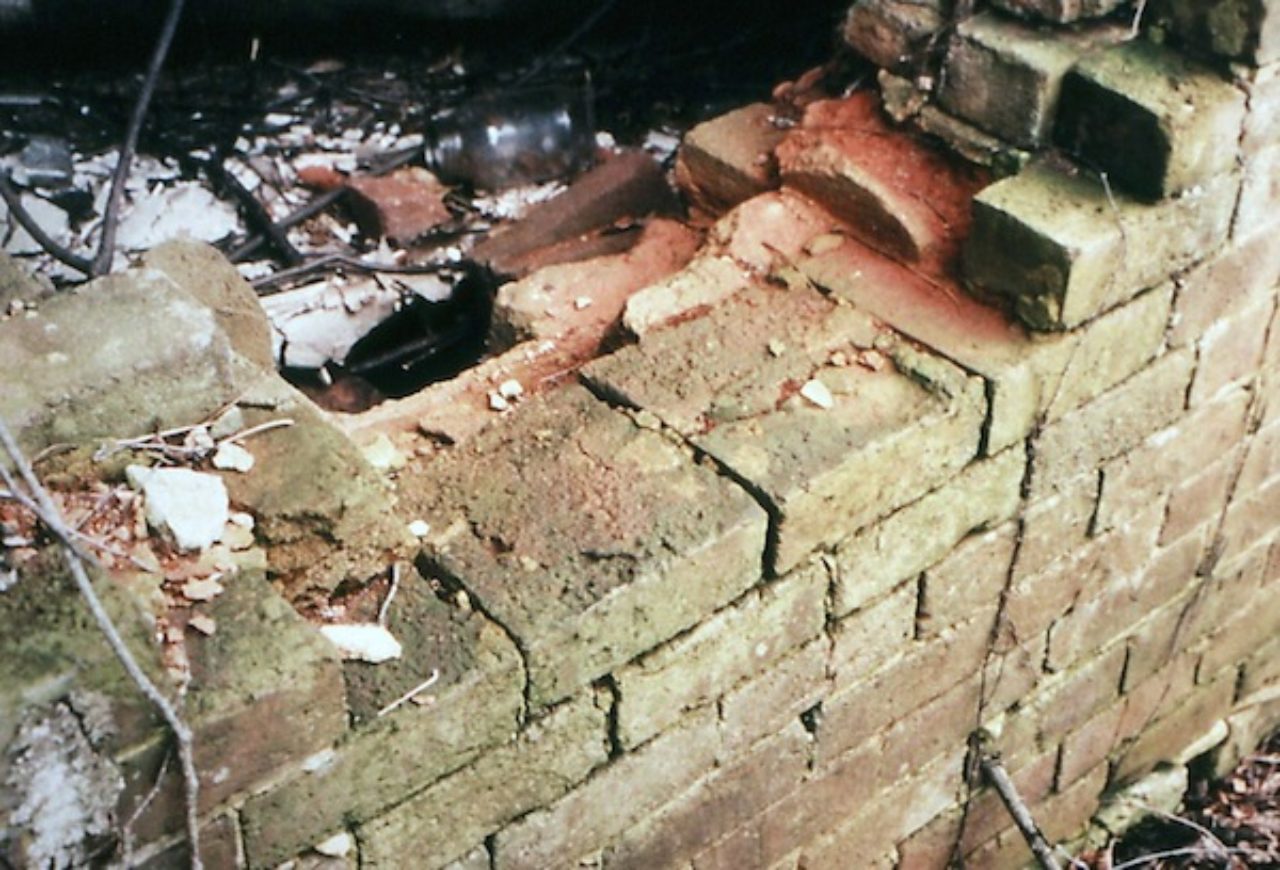 13: Square bricks, Southwest Virginia dwelling (Michael Pulice)
A method of treating mortar joints practiced in Britain, but very rarely in America, is tuckpointing. In this country, the term is often used incorrectly to mean repointing. Tuckpointing is a method of simulating fine-quality rubbed and gauged bricks. It consists of coating a wall with a uniform color wash, red or blue-black, to hide the joints. Each joint was then scribed with a narrow groove that was filled with a thin beaded line of very white lime mortar, a treatment requiring considerable skill to achieve the desired precision. A famous example of tuckpointing is preserved on London's No. 10 Downing Street, the official residence of the British Prime Minister. (Figures 14 & 15) If we look closely, we can just barely see the much wider original joints. A few examples of early tuckpointing survive in Charleston, South Carolina.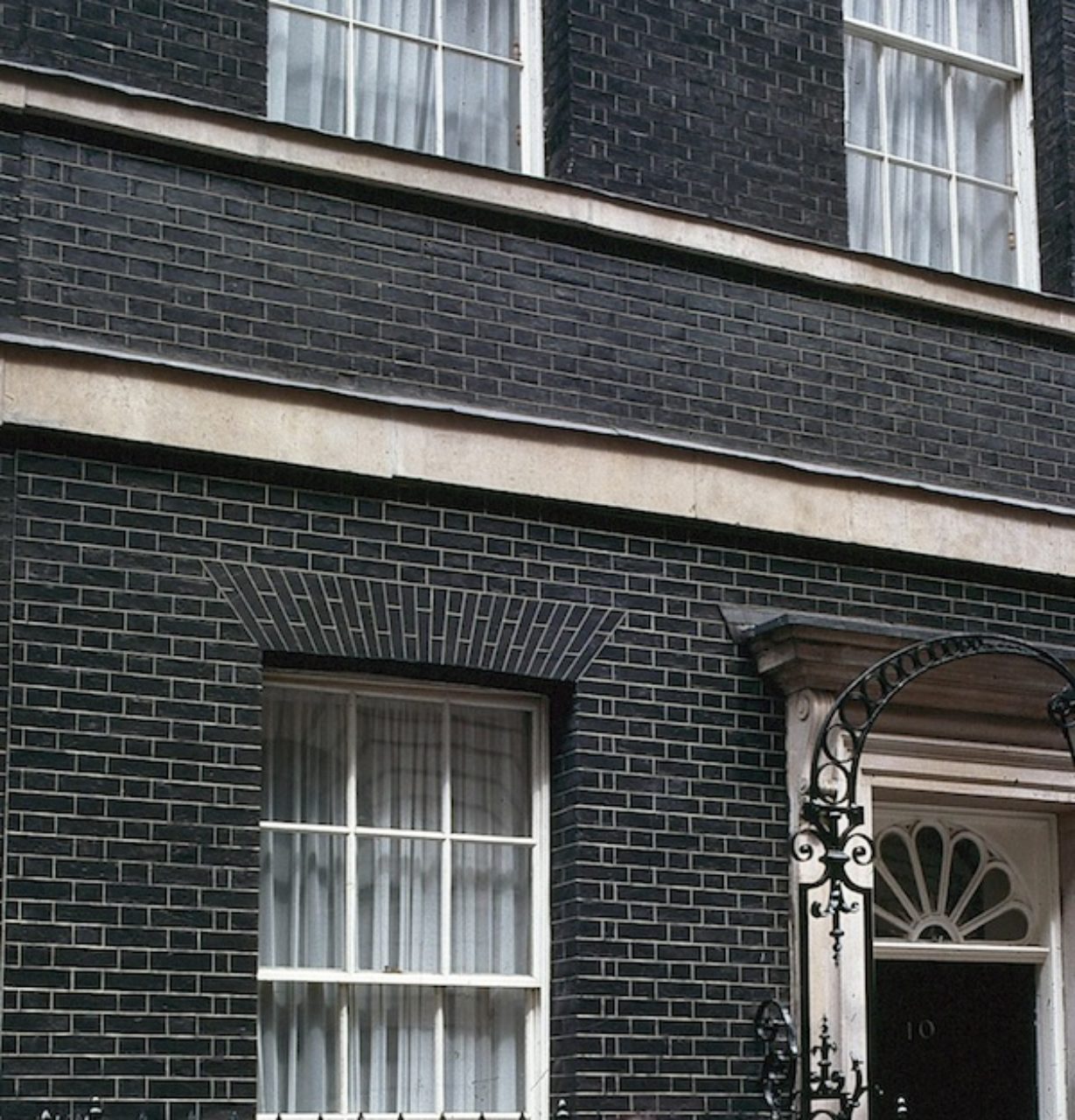 14: No. 10 Downing Street, London (Loth)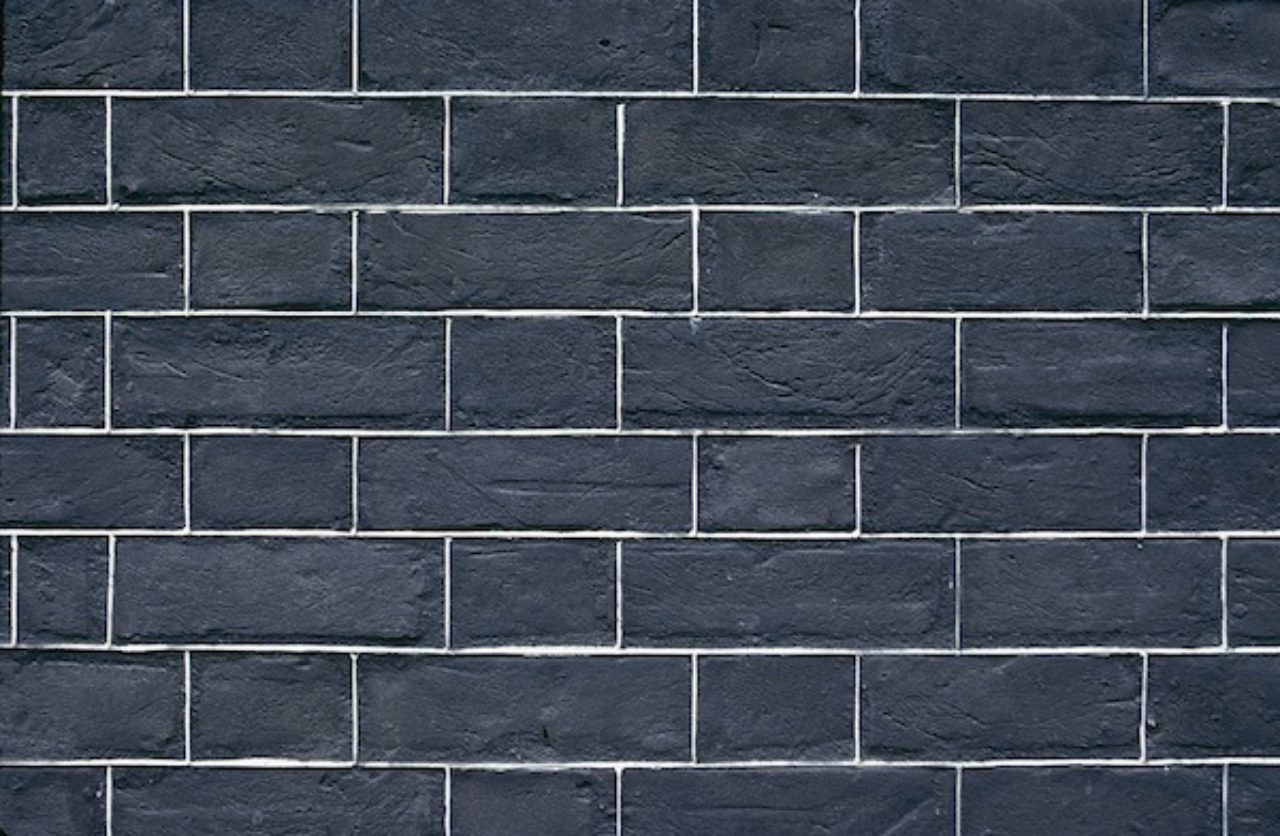 15: Tuckpointing, No. 10 Downing Street (Loth)

The development of brickmaking machines in the early decades of the 19th century enabled the production a large quantities dense, fine-quality bricks. One of the types emerging from these improved manufacturing processes was pressed brick. Pressed bricks were made using the dry-clay process—stiff clay with only a seven to ten percent moisture content. The clay was pressed into metal molds by means of steam-powered pistons or plungers using great pressure. Thusly molded, the bricks were then fired in kilns. The result was a very solid brick with smooth faces and precise arrises. An early example of the use of pressed brick is the 1856 Armistead House in Williamsburg, Virginia, described as being built of Baltimore stock bricks.[2] (Figures 16 & 17) In the detail of the Armistead house brickwork we see that its bricks have an elegantly uniform precision allowing for the thinnest of mortar joints of very little sand content. The walls consist of all stretchers thus forming a veneer. While the bonding of the veneer bricks to the core wall common bricks is not accessible for examination, the usual method of bonding pressed brick was with thin metal ties embedded in the mortar joints.



16: Armistead House, Williamsburg, Virginia (Virginia Dept. of Historic Resources)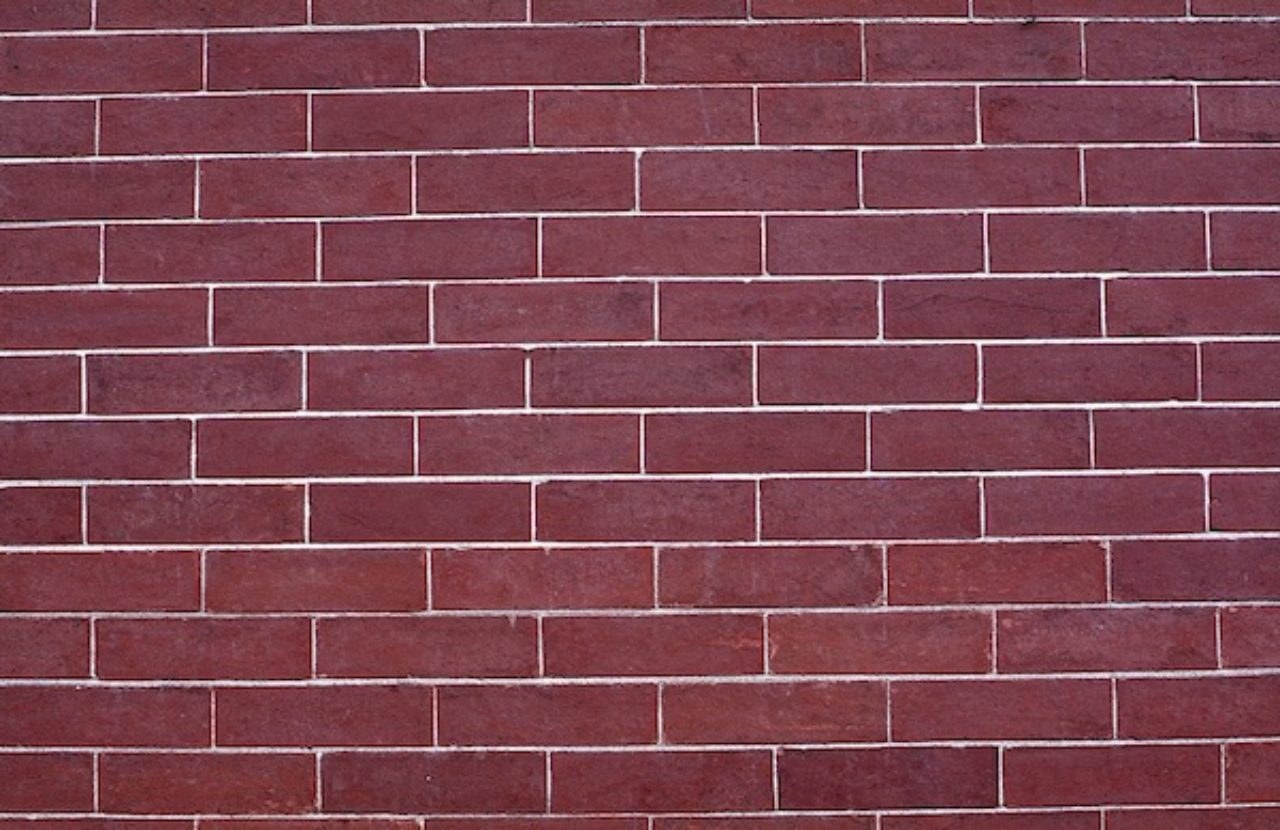 17: Armistead house brickwork detail (Loth)

Cream-colored pressed bricks gained widespread popularity in the late 19th century, especially for high-style classical works such as the 1892 Oliver Hill Building, a state office building on Richmond's Capitol Square. (Figure 18) Their resemblance to stone and their light color, resulting from high lime content in the clay instead of iron oxide, made them an attractive contrast to the older red-brick urban buildings which had become dingy through decades of coal-soot build-up. The washing of rain over the smooth, hard surfaces of the pressed bricks enabled soot to be kept in check. Cream-colored pressed bricks were often used in conjunction with white terra cotta or carved stone ornaments. The moldings and pilaster capitals of the Oliver Hill Building are all white terra cotta. (Figure 19)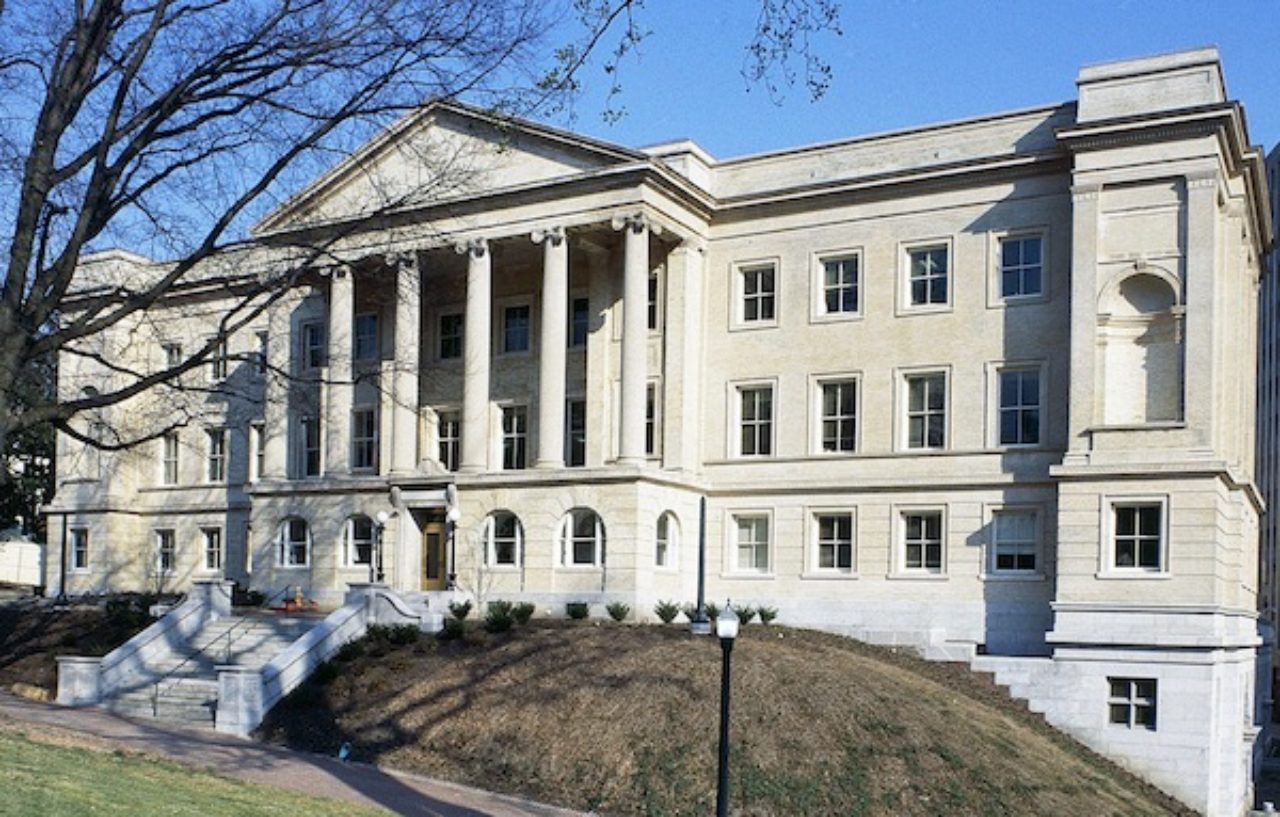 18: Oliver Hill State Office Building, Richmond, Virginia (Loth)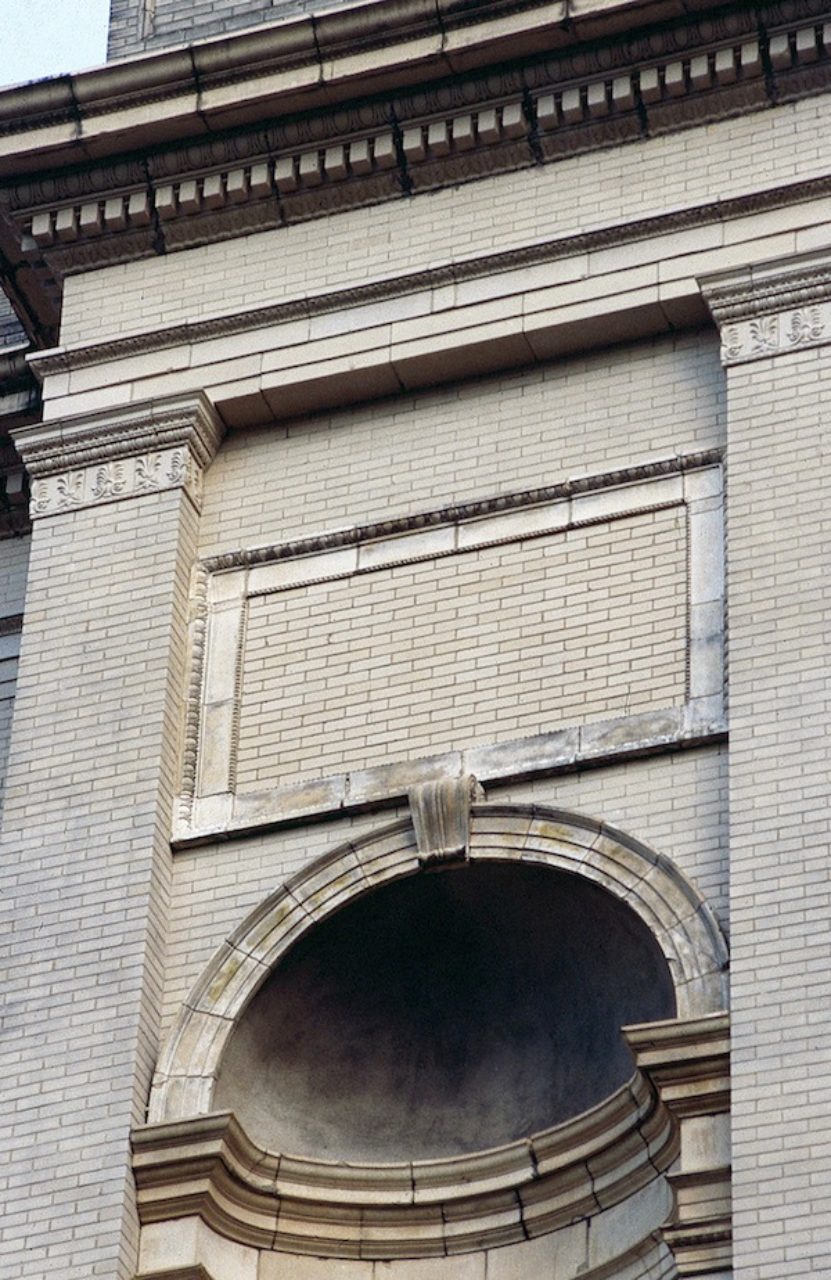 19: Oliver Hill Building, brickwork detail (Loth)

Brick types and brick construction methods make for a vast and complex subject. The three essays on brickwork that I have contributed thus far to the ICAA Classicist Blog cover only a tiny fraction of existing information on the subject. So much of our architecture, from ancient to modern, is built of brick, a material that lends character and durability to structures. The ability to read brick tells us much about the buildings around us and the people who designed and built them. I hope this present essay will keep us on the lookout for evermore brickwork types and inspire us to explore creative uses of this material. I hope also to offer additional Classical Comments essays on brickwork in the future.
---
[1]
I am grateful to my colleague, Michael Pulice, for informing me about square bricks and providing the photograph shown here.
[2]
1858 letter from Samuel S. Griffin to his son Lemuel C. Griffin: Griffin Letters, MSS William & Mary College Archives. Baltimore was among the few early centers of pressed brick manufacturing in that period.