2011 Arthur Ross Laureate and the Classical America Series in Art and Architecture Draw Critical Attention
A message from our President, Paul Gunther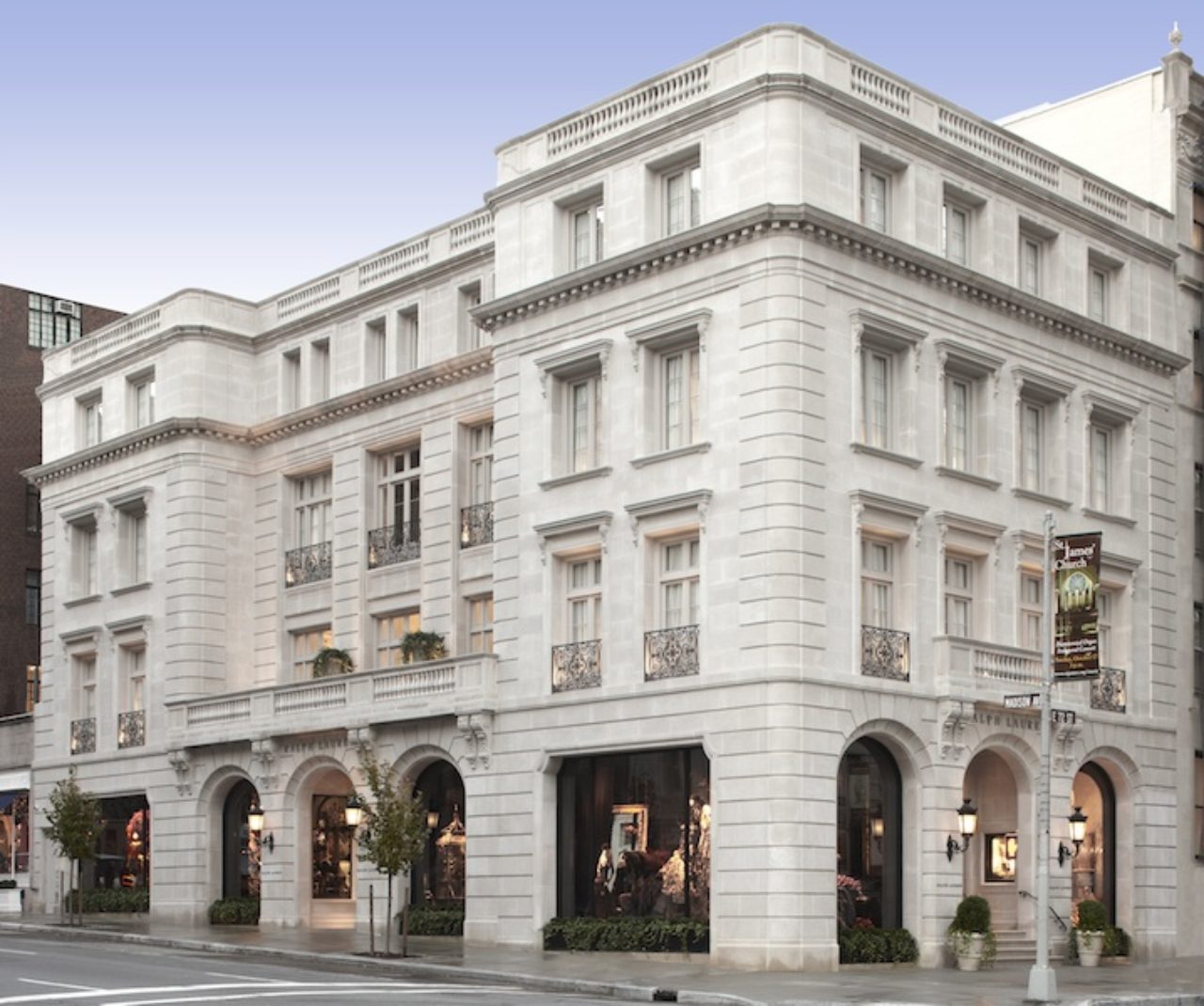 Ralph Lauren store, Madison Avenue (Photo courtesy of Polo Ralph Lauren)
The intrepid and versatile chronicler of New York's built environment, Christopher Gray, whose STREETSCAPES column appears each week in the Sunday Times's Real Estate section, wrote about East 72nd Street in Manhattan on March 13, 2011 with focus on the restoration of the Carrere & Hastings and Ernest Flagg and Walter Chambers mansions at numbers 7 and 9, and especially the new Polo Ralph Lauren flagship store at the corner of Madison Avenue.
Find it online as it speaks best for itself as a measure of critical consideration and rare ecumenical perspective with an eye on history and the dynamic potential of tradition, including of course what is still called the "modern."
Besides these attributes, the Institute bisects the story's content twice with both currency and well-laid plans.
Firstly, Ralph Lauren is the winner this year in the Arthur Ross Awards patronage category for his design example of the last generation culminating in this new store commission, stressing as it does an architecture of place with a proud and careful contextual nod meeting 21st century urban needs.
Secondly, Notre Dame School of Architecture Professor Steven W. Semes's The Future of the Past: A Conservation Ethic for Architecture, Urbanism and Historic Preservation cited by Gray as path-breaking theory worthy of attention is part of our ongoing book series the "Classical America Series in Art and Architecture." It was published 18 months ago by W.W. Norton & Co.
Thanks to our donors and members, Steve received a grant subsidy for the book relating especially to the research and fees tied to its essential illustration. Our Publications Committee approves "Series" titles and occasionally awards such subsidy as merit and need call for and resources allow.
We acknowledge our supporters and hope they among others will take a moment to take stock of this core advocacy achievement.
Former New York City Landmarks Commissioner, architect Steve Bryns, who cast a vote in favor of the new contemporary classical Lauren building while in that service, summarizes well, "Common practice in historic preservation requires that new construction in historic districts be a modern contrast … The theory is that a building that hews to an historic style such as Classical or Gothic cannot be considered "of its time." New York's Landmarks Preservation Commission has led the nation in embracing a broader interpretation of what may be considered appropriate architecture in historic settings. The key is the quality of design and detailing that relates to the district."
We applaud discussion that prompts a broader public understanding of and respect for our mission's founding intent.