Built from the Ground Up: Seven Ways Our Chapters are Advancing the ICAA's Mission Nationwide
Through our network of 15 chapters nationwide, the ICAA reaches tens of thousands of people across the country each year – including architects, designers, builders, students, and enthusiasts of classicism. As I reflect on the last two years as President of the ICAA, I am delighted to see growing enthusiasm and energy across our chapters. Most impressively, chapters are coordinating more and more with one another and our national headquarters to launch brand-new, innovative programs. This month, I am pleased to highlight several recent initiatives led by, or planned in partnership with, our colleagues across the country.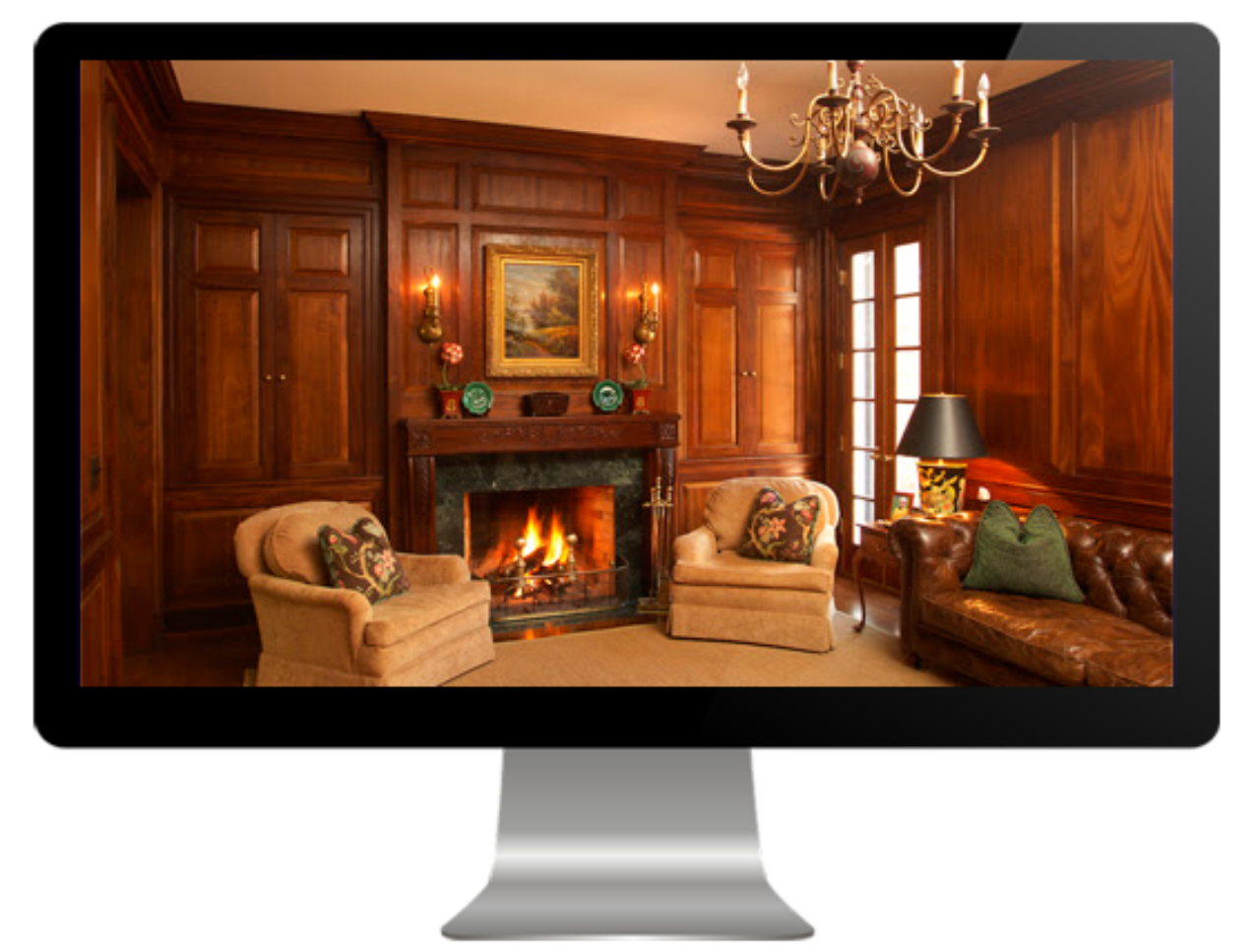 North Carolina Chapter's Webinar in Collaboration with the AIA
On March 8th Jim Collins, President of the North Carolina Chapter, led a live online webinar titled Designing the Traditional Interior in partnership with the AIA North Carolina. With nearly 100 people participating from across the country, the program reached both ICAA members and new audiences through the AIA's innovative online education platform.
"What a terrific introduction to the principles of classical architecture – online!" said Barbara Eberlein, President of the ICAA College of Chapters and the Philadelphia Chapter, who attended the webinar. "Jim Collins's webinar was engaging and informative, addressing both theory and aesthetics in 90 short minutes. Focusing on proportion in interior architecture then drawing parallels to that found in nature, Jim explored perfect examples of classical buildings to illustrate the logic, wisdom and beauty of the golden ratio."
I applaud the North Carolina Chapter for pioneering new technologies to expose new audiences to traditional design, and we encourage our members to take Jim's course! A recording of the webinar will be published soon for on-demand viewing, with continuing education credit available, on AIA North Carolina's website.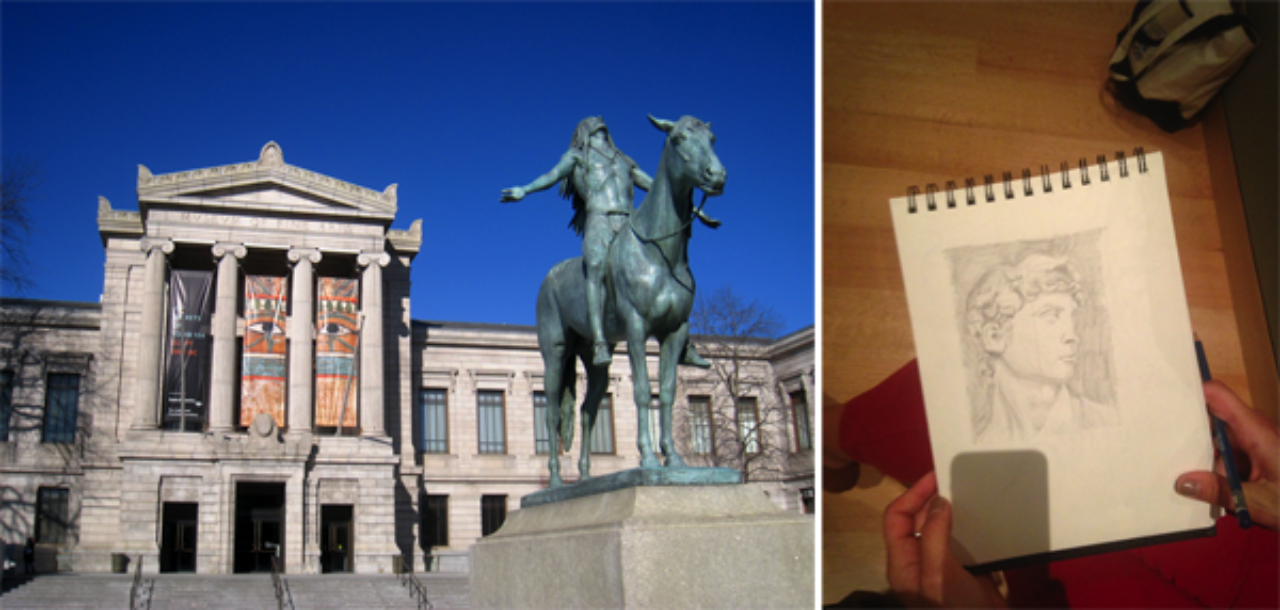 Museum of Fine Arts, Boston, Image Credit: Wikimedia.org (left) /
A gallery sketch by an ICAA student at the MFA, Boston (right)
New England Chapter's Collaboration with the Museum of Fine Arts, Boston
Last Fall, the New England Chapter teamed up with the Museum of Fine Arts, Boston to offer courses in Traditional Hand Drafting, The History and Theory of Classical Architecture, Gallery Sketching, Architectural Wash Rendering, and Drawing the Classical Orders – led by New England Chapter President Sheldon Kostelecky, Aaron Helfand, Kahlil Hamady, and Leslie-jon Vickory. Congratulations to our New England Chapter for launching this effort with the Boston MFA! The next series of courses begins March 30th. I encourage all to learn more and, if possible, participate.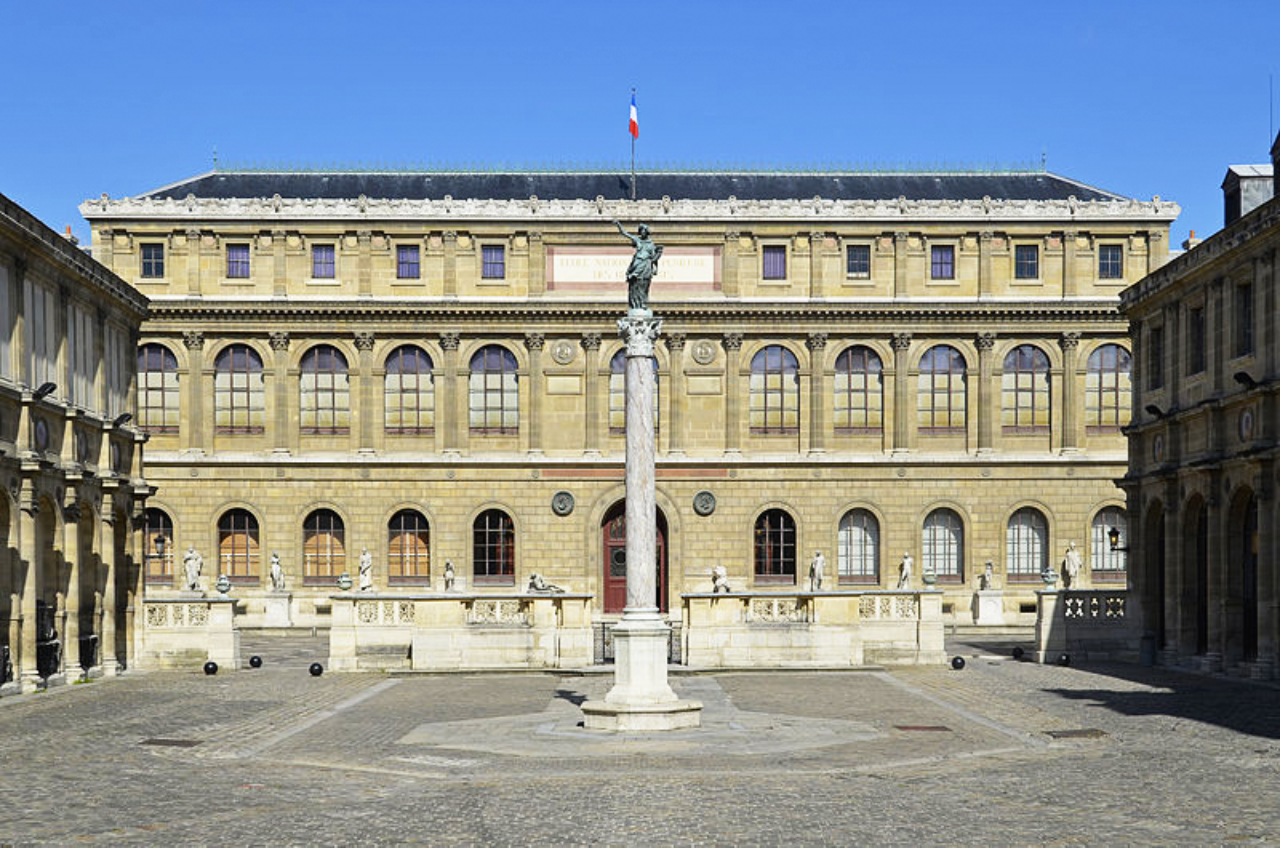 École nationale supérieure des Beaux-Arts, Paris, Image Credit: Wikimedia.org
Americans in Paris Lecture Series with Margot Ellis
Several ICAA chapters – including New England, Southern California, Rocky Mountain, and Texas – have hosted author Margot Ellis to lecture on her book, Americans in Paris, published as part of the ICAA's Classical America Series in Art and Architecture book series. Ms. Ellis tells the story of American architecture students (such as Richard Morris Hunt, Guy Lowell, John Russell Pope, and Julia Morgan) who attended the École des Beaux-Arts in Paris and went on to design and build many of our nation's most recognized buildings and monuments.
Ms. Ellis will speak next for the Washington Mid Atlantic Chapter on April 14th and in New York at the ICAA on April 21st. Thanks to our chapters for bringing Margot Ellis, and the legacy of the Americans in Paris, to ICAA members across the country. And thanks especially to John Margolis of our Southern California Chapter for promoting this lecture series, and for helping to make many of the ICAA's public programs possible.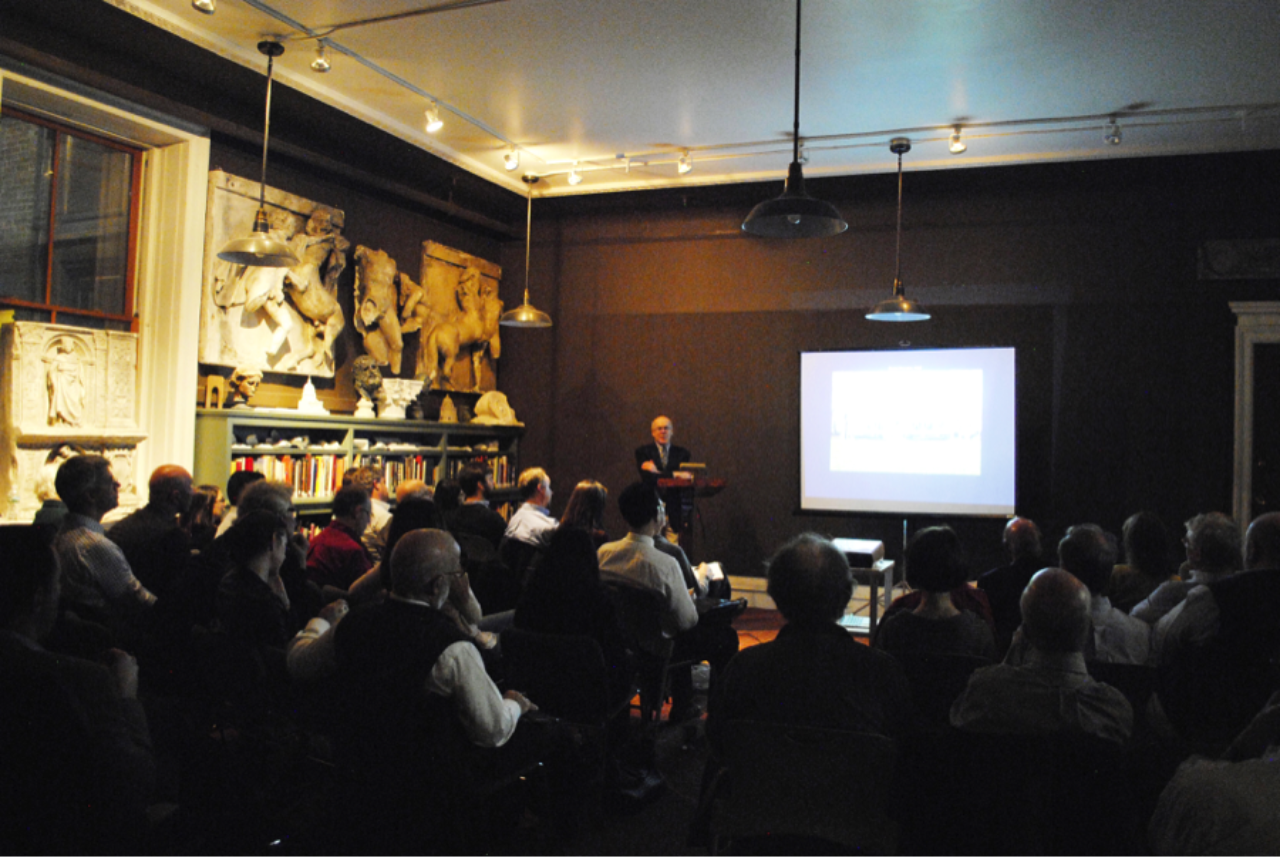 Francis Morrone leading the first session of The Architecture of New York from the
18th Century to Today on March 23rd
The Architecture of New York from the 18th Century to Today with Francis Morrone
Presented by the New York Chapter, renowned architectural historian and writer Francis Morrone has commenced a four-part course entitled The Architecture of New York from the 18th Century to Today. From neoclassical to Beaux-Arts and 21st Century buildings, the program explores key works representative of the city's various architectural styles and periods, including: St. Paul's Chapel, Federal Hall National Memorial, Trinity Church, Central Park, Forest Hills Gardens, The New York Public Library, and more. I was hardly surprised when registration for the event reached maximum capacity (with a growing waiting list). Bravo to our New York Chapter and Mr. Morrone!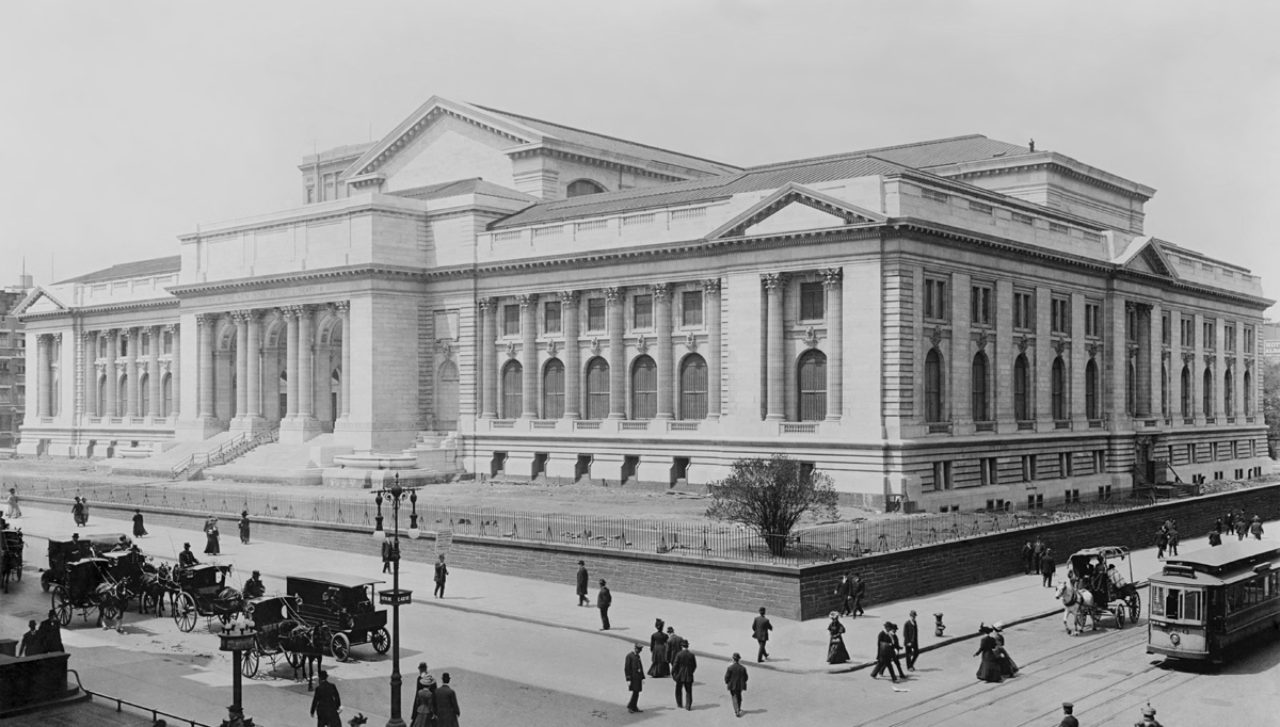 The New York Public Library is featured in Margot Ellis's book, Americans in Paris, and highlighted in Francis Morrone's New York Chapter lecture series, The Architecture of New York from the
18th Century to Today; Image Circa 1908 / Credit: Wikipedia.org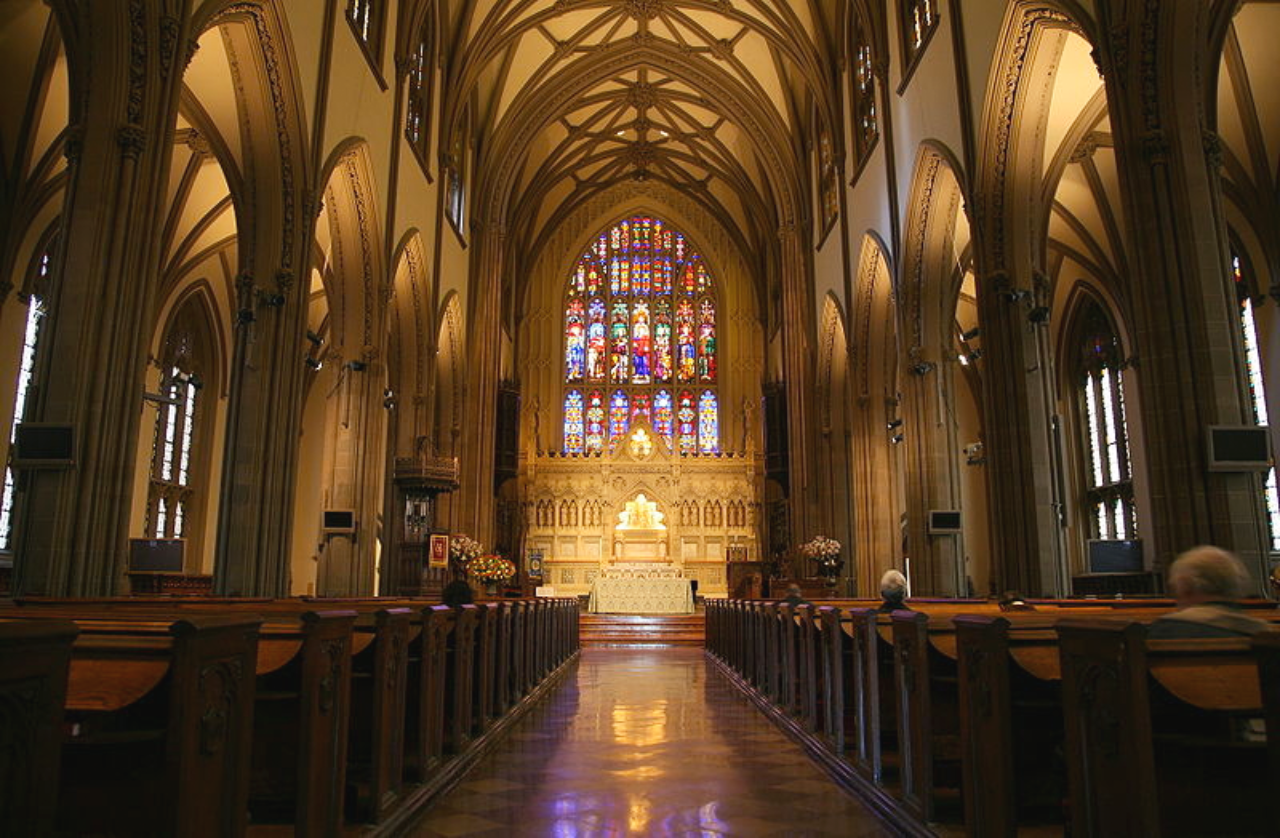 Trinity Church, New York City, Image Credit: Wikipedia.org
Support for National Education Programs
Our Southern California Chapter has demonstrated extraordinary leadership by pledging financial support for ICAA education programs. Other chapters including Southeast, Washington Mid Atlantic, and Rocky Mountain have also pledged support. Northern California also enabled one of its members, an emerging professional, to attend the 2016 Winter Intensive with a full tuition scholarship. By making our education programs accessible to all students, regardless of financial background, the ICAA is able to attract the highest caliber participants.
Thanks to the Richard H. Driehaus Charitable Lead Trust, scholarships are also available to ensure accessibility for students of all financial backgrounds to the Summer Studio in Classical Architecture.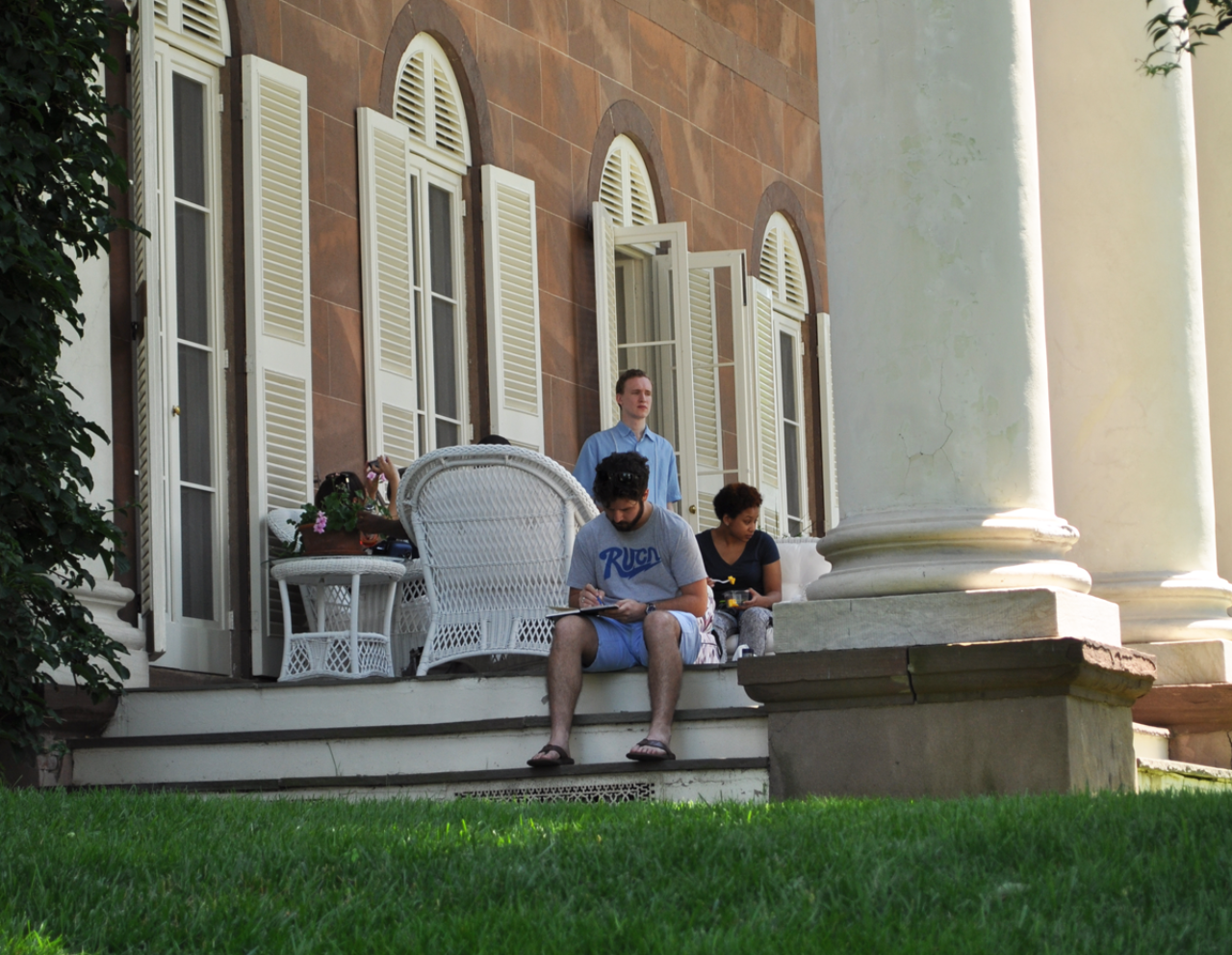 Summer Studio in Classical Architecture students drawing at Edgewater in Barrytown, NY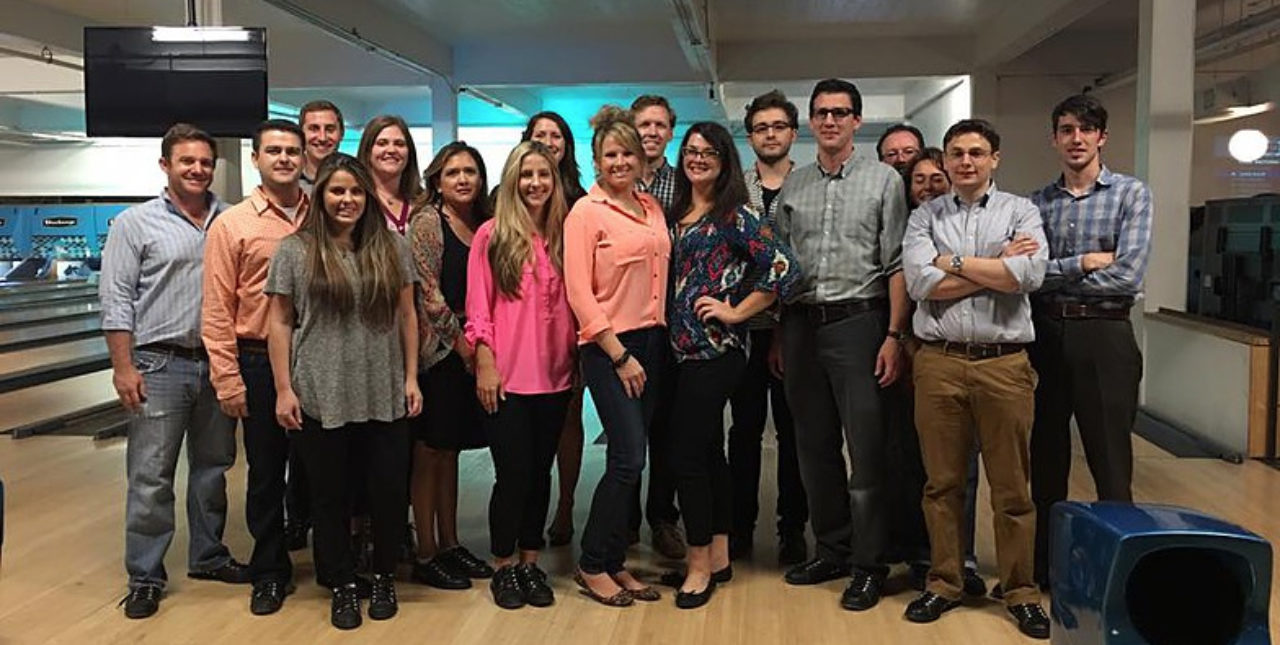 Engaging Students and Emerging Professionals
Our Chapters help us connect with the next generation by engaging students and young professionals. They bring new energy into classicism by hosting classes, cocktail hours, and other events for emerging professionals and future classicists, and by inviting them to join chapters' boards. For example, emerging professionals groups are supported by the Texas, Washington Mid Atlantic, Northern California, New York, and Southeast Chapters, among others.
The ICAA also recently launched a brand-new Young Members Task Force. Comprised of emerging professionals from various chapters across the country, the group will help the ICAA ensure that its programming remains valuable and affordable to those in the early stages of their careers.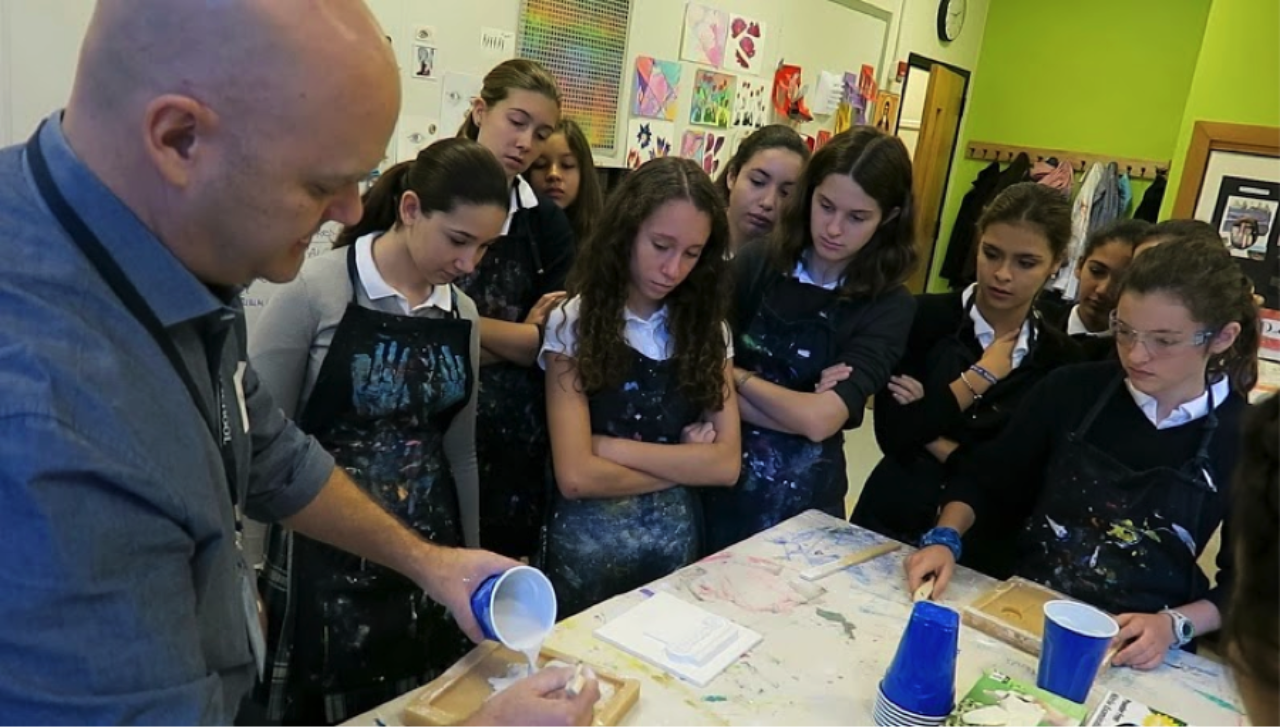 Adrian Taylor, New York Chapter Board Member and Principal at Hyde Park Mouldings, leading a plaster cast demonstration as part of the New Heights program
New Heights: Discovering Classical Architecture
The ICAA recently celebrated the culmination of our first New Heights course. Launched in collaboration with Marymount School of New York, the program introduced 60 eighth grade girls at Marymount over the course of 10 weeks to classical architecture and the related arts through interactive classroom instruction and weekly field studies. The concept for New Heights was conceived last year during my meeting with the Southern California Chapter Board. Mary Kate Spach, a member of that board, is also an alumnus of Marymount and helped bridge the connection between the school and the ICAA. Members of the New York Chapter were also instrumental to the program's launch.
The inaugural program at Marymount was a tremendous success, and we look forward to launching education models based on New Heights across the country. Members of our Southern California and Washington Mid Atlantic Chapters are already planning similar programs!
Thank you to all of our chapters for their collaborative spirit, creative energy, and passion for furthering the classical tradition in their own regions and across the country. I look forward to sharing more exciting developments from our chapters in the future!