News on the Advocacy Front
A message from our President, Paul Gunther

The recent chorus of ICAA constituent responses to the pending memorial to General Dwight D. Eisenhower along the Mall in Washington DC was led by the Washington Mid Atlantic Chapter in concert with the National Civic Art Society. Together they announced a design competition alternative to the official and closed one sanctioned by the General Services Administration at the behest of the official Memorial Commission.
Unlike so many major national design competitions, which, despite official regulations to the contrary, are de facto off-limits to classicists by virtue of the well-known prejudices of the pre-settled jury, there was no question that any and all tradition-and contextually-primed submissions would be greeted with requisite respect.
And so the debate continues….
What this matter brings to mind is the fact that while advocacy work cannot be the focus of our labors nationwide at this juncture due to the mission-driven emphasis on education for practitioners, students, and an appreciative clientele alike, it is nonetheless a role that we can and do fill occasionally. This is possible thanks to your support and engagement and is undertaken therefore when we believe the stakes are highest not only for the specific site or project at hand, but also when it seems that policy ramifications transcend the individual advocacy effort. In sum, broad impact is the present watchword.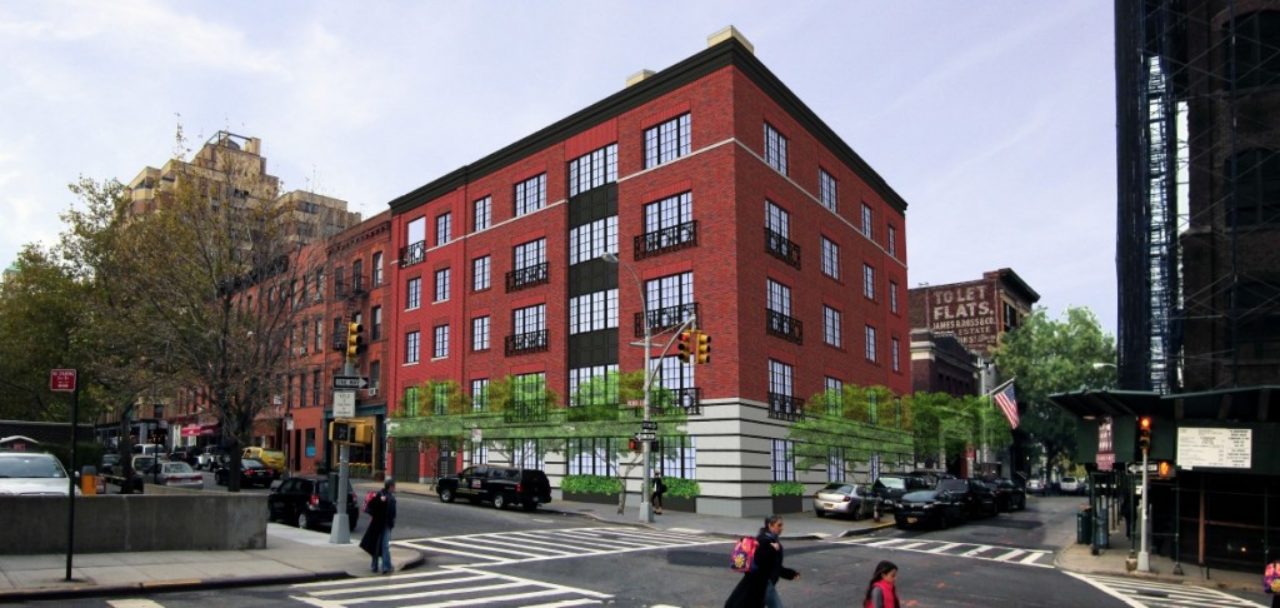 "Photo Rendering of Proposed Design for 30 Henry Street, BKSK Architects
That is why at the beginning of the year the ICAA weighed in with like-minded others before New York City's Landmarks Preservation Commission for a building proposed by BKSK Architects at 30 Henry Street in the seminal Brooklyn Heights Historic District. The crux of our opinion was,
The Institute's point of view stems from what we believe is the proposed building's contextual integrity combined with "of its time" distinction from the existing historic fabric. This building in terms of overall volume, materials, and subtle contrast of each to any structure either contiguous or nearby renders it duly contemporary. Denial of such a solution overlooks the diversity of contemporary design as sought by the marketplace and as practiced by those who over the last generation have rediscovered the possibilities of traditional precedent including, of course, the now 100-year old advent of modernism. All styles evolve over time in accordance with available materials, methodologies, functional technologies, and resident needs; the design pending at 30 Henry Street illustrates the fact well…
As according statues preclude any formal or stylistic preference or preordained exclusions for proposed construction in landmark districts, the BKSK solution strikes an ideal balance between continuity and modern accommodation as well as future resident demand and overall community strengthening.
This is a building of the 21st century in embrace of all its creative diversity and non-hierarchical effusiveness. Distinction instead of dissonance inflects its nod to the past. The Historic District will be the lasting beneficiary accordingly.
The Commissioners reported that it was one of the most rigorous and honest discussions ever held, especially in the face of decades-old tropes confusing modernist typologies with modernity itself. And as a result the BKSK plan was approved. This is a case where we believe advocacy intervention helped set a precedent for forthcoming ecumenism of style vocabulary among Landmark enforcers nationwide.
We encourage sharing of possible advocacy position ideas with the chapters as well as with the headquarters office, bearing in mind this current and necessary focus only on widespread ramifications.
~~~~~~
P.S. I hope you've had a chance to read Dean Lykoudis's interview with Richard H. Driehaus on the 10th anniversary of his Awards program in the Spring/Summer issue of The Forum. Note too that David Bagnall's fine illustrated story of his restoration of Chicago's Samuel M. Nickerson House, An American Palace (University of Chicago Press), is now available and well worth adding to your design library. To secure a copy and all our Classical America Series' titles visit the Classicist Bookshop online.