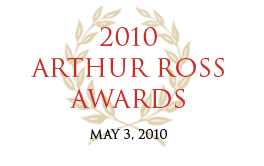 The 2010 Arthur Ross Awards were sponsored by Waterworks, Zeluck Inc., and Xhema Construction. The lead sponsors were the Arthur Ross Foundation and Peter Pennoyer Architects. The Awards were underwritten in part by Bulgin & Associates, Inc., Fairfax & Sammons Architecture, R.D. Rice Construction, Inc., and Uberto Construction.
ABOUT

THE

2010

ARTHUR

ROSS

AWARDS

On Monday, May 3 the University Club was once again full with a celebratory crowd to congratulate the winners of the 2010 Arthur Ross Awards for Excellence in the Classical Tradition. Barbara Sallick, chair of this year's Arthur Ross Awards jury, and Peter Pennoyer Chairman of the ICAA board of directors presided over the ceremony.

The winners of the 2010 Arthur Ross Awards for Excellence in the Classical Tradition are: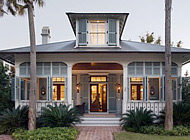 Architecture
Historical Concepts, Peachtree City, Georgia
For an impressive body of work across the southeast especially that reveals the central role of contemporary classicism in architecture and town planning for the 21st century, www.historicalconcepts.com.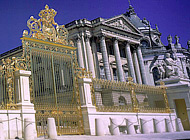 Artisanship
Fondation de Coubertin/ Saint-Jacques Artisans Workshops, Saint-Rémy-lès-Chevreuse, France and Chicago, Illinois
For a sustained commitment to upholding the rigors of skilled craftsmanship and the historic French system of artisanal achievement and generational passage of skill from master to apprentice as aligned with the classical tradition, www.coubertin.fr.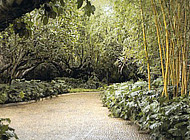 Landscape Architecture
Sanchez & Maddux, Palm Beach, Florida
For bringing classical themes and structure to the native abundance of tropical gardens, www.sanchezandmaddux.net.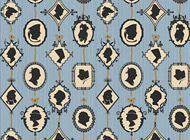 Painting/Mural Painting
Boyd Reath, New York, New York
For artfully fostering the tradition of residential decorative painting with special focus on murals and pattern design, www.boydreath.com.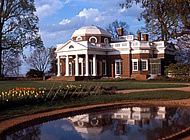 Stewardship
Monticello/Thomas Jefferson Foundation, Charlottesville, Virginia
For inspiring a new paradigm of historic preservation at the cradle of American design excellence as conceived by Thomas Jefferson informed by scholarship and made manifest with masterful authority, www.monticello.org.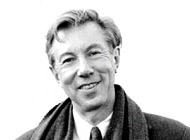 Board of Directors Honor
Calder Loth, Richmond, Virginia
For a public career at the service of historic preservation in the Commonwealth of Virginia that set a national stewardship standard, and for teaching a new generation of practitioners and amateurs alike an enduring and rigorous appreciation of architectural literacy.
The Arthur Ross Awards encompass eleven categories: architecture, artisanship, community design, education, history and publishing, landscape design, painting/mural painting, patronage, rendering, sculpture, and stewardship. There is a limit of five awards selected each year from across this spectrum of vital and mutually-reinforcing roles, along occasionally with special recognition across categories as recommended by the Ross jury and affirmed by the board of directors as is the case this year with the multi-disciplinary salute to scholar, educator, and preservationist, Calder Loth.
Jury chair for 2010, Barbara Sallick said, "With 110 submissions across the eligible categories, we had our work cut out for us. The standard was high throughout and the deliberations were duly serious. As this year's winners emerged, the jury felt confident that many more applicants are deserving and we feel certain that they too will be recognized in the years to come."
ICAA board chairman, and jury member, Peter Pennoyer said," As always, the selection of Ross winners was extremely difficult. The range of artistry and creativity was thrilling. The jury was hard-pressed to make decisions, and the process of choosing was lively at every step. There was never an obvious winner in any category. Most of the time the jury wished to send messages of encouragement to the many designers, craftspeople, organizations, and authors who submitted work, requesting them to resubmit." He continued, "The artisanship category was particularly heartening. The creation of great architecture is so dependent on quality construction, mill work, wood and stone carving, plaster work, painting, sculpture, mosaic, and fabric design. It was encouraging to observe an ongoing resurgence of creative excellence."
ICAA president, Paul Gunther added, "A growing roster of members thanks and commends the awards jury for this year's selections. Together, they exemplify well our mission to sustain and interpret the lessons of the classical tradition at its best for the sake of a better and more humane built future across the country. We are gladdened that the generous leadership and civic example of our beloved, late co-founder, Arthur Ross, is celebrated each year with these inter-disciplinary awards and that it will continue for as far into the future as any of us can foresee."
The evening's gala underwriters were Roy and Kevin Zeluck, whose company Zeluck Inc. is providing sponsorship support along with the fine builder Xhema based in Greenwich, Connecticut and New York, New York. Roy Zeluck said, "I am pleased that Zeluck Windows & Doors is providing support for this annual gathering in order to allow a greater share of collective proceeds to help meet programmatic needs throughout the nation. As is the case each year, it is an honor to be on hand to salute the Ross winners."
The two lead underwriters are joined to date by R.D. Rice Construction of New York and Waterworks, headquartered in Danbury, Connecticut.
Mrs. Arthur Ross has again agreed graciously to serve as the Honorary Chair for the evening. She is joined by Suzanne Santry, who serves on the board of directors and who in 2010 was also a member of the Arthur Ross Awards jury.