The Classicist BookShop's Featured Book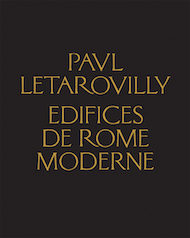 Edifices de Rome Moderne
Paul Letarouilly
The original three-volume folio edition of Edifices de Rome Moderne, Paul Letarouilly's magisterial survey of the buildings of Renaissance Rome, is often described as one of the most beautiful architectural books ever published. Comprising 354 highly detailed plates showing plans, sections, elevations, perspectives, and details, the comprehensive study illustrates many of the great gardens, convents, palaces, and churches of Renaissance Rome. The original 19th Century folio-sized volumes were much sought after in architectural practices seeking detailed information about the design of these important architectural works. More recently, smaller facsimile editions continued to disseminate this immensely important body of knowledge to 20th Century practitioners, scholars and enthusiasts alike. Other highly edited versions offered a smaller selection of plates for the student market.
Now, Princeton Architectural Press has published an affordable yet complete edition of Edifices de Rome Moderne as part of the ICAA's Classical America Series in Art and Architecture. Using the latest scanning technologies, admirably sharp reproductions of the original illustrations are available in a conveniently-sized, paperback edition. This handsome and important volume deserves a special place in the libraries of practicing architects, historians, students and anyone interested in the architectural designs of Renaissance Rome.
This essential work would not have been published as part of the Classical America Series in Art and Architecture without the generous support and guidance of ICAA Board Chairman, Mark Ferguson.
Thanks to our collaboration with Princeton Architectural Press, ICAA members, supporters, and friends will receive 30% off (plus free U.S. shipping) on any Princeton Architectural Press items including the new student edition of Edifices de Rome Moderne. Enter promo code ICAA at checkout. Offer expires December 31, 2016.
Visit www.papress.com to learn more and purchase the book today »
---
New Releases
See Complete list »